What we do
Uganda car rental services is a car hire travel agency under Mumwe African Skimmers, a prominent tour and travel company registered with the ministry of tourism and heritage and fully licensed by KCCA . We offer affordable car rental services to all clients ranging from luxury, moderate and budget rates and organize fun-packed adventurous Uganda and Rwanda wildlife tours including gorilla tours, wildlife safaris, and water sports like bungee jumping, rafting, kayaking and quad biking, nature walks, bird watching, biking tours, mountain hiking and so many more. You can hire a car on self drive and with a driver with our office or online by sending us an email at info@ugandacarrentalservices.com or simply call us on +256-700135510 to get in touch with our reservations personel.
What we offer
Here at Uganda car rental services, we offer some of the best car rental solutions in Uganda at low and affordable costs. Whether you need a self drive trip, chauffer driven or on a group tour, we offer vehicles for all kinds of clients and purposes.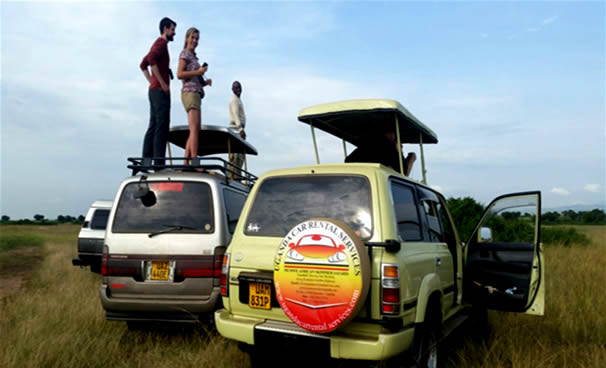 Airport transfer
Are you in need of an airport transfer, then you are in the right place? We offer airport transfers from the airport and to the airport. Our vehicles and drivers are at the airport which offers the best efficiency in what we do. We also offer airport transfers to different locations and destinations around Uganda. Make sure to provide us with your flight details in advance and our drivers will be right there in time.
Self drive services
Our self drive services offer the client freedom to explore the best of Uganda at his own pace and rate. Drive yourself in our fleet to either national parks, business trips, conference meetings, events like weddings and introduction parties, and elsewhere of your choice, our service is second to none. Whether you are a solo traveler or group travels our services can cater for you. We take pleasure in our service by offering you reliable vehicles in good condition with the best amenities looking forward to the best of your trip. We also offer other services including Car Rental solutions, Uganda tours, Conference and Events management
Customer Reviews :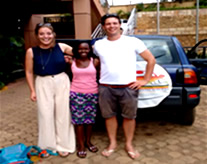 Read about our past car rental reviews from clients we have served before. All our customers have got a service worth every penny they paid exceeding their expectations. From our cars to professional drivers, Uganda Car Rental Services will get you what you need catering for your budget and personal needs.
Bookings
Once you have confirmed with us , you will be asked for a 30% deposit or full payment depending on the number of days before the starting day. You can pay to our bank account online using the Pesa Pal account or in person at the bank using the provided bank account number provided. If youre in town, you can visit our office situated in Najjanankumbi, Kampala city
Frequently Asked Questions –
If you planning to rent a car in Uganda and still wondering how to go about the process, here are some frequently asked questions about car rental in Uganda to help you make the right decision and get the best deal.
Address & Contacts
Visit our offices at Morning star building Najjankumbi, along Kampala – Entebbe highway P.O Box 24986 Kampala Uganda Mob +256 700135510, Tel +256 414-699459 Email info@ugandacarrentalservices.com