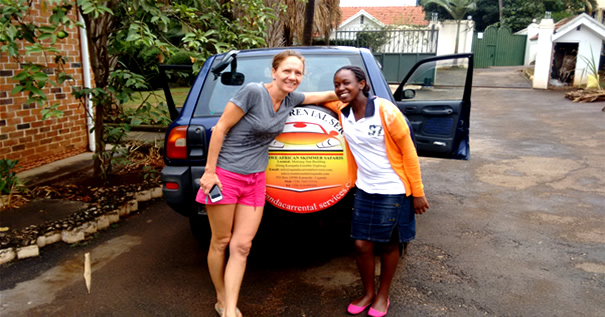 Kevin Runde, America – I used Uganda Car Rental Services in July for my trip from Kampala to Western Uganda. HIGHLY RECOMMENDED! I will speak highly about their excellent service to anyone heading to the beautiful country of Uganda! Everything from the communication before the drive, to the comfort and safety level I felt during both of my drives, compels me to speak out about this excellent company. My driver was very professional, safe, and friendly. The people I emailed with before the trip were very knowledgeable and helpful. I'd recommend this company for anything, including renting a vehicle from them. I spoke with them about their goal of showing their favorite parts of Uganda to tourists. I am excited to follow their progress and see how they grow.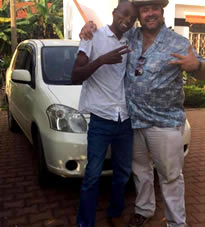 Artur Morawiec , Poland- We just wanted to pass on the feedback that we had an amazing trip with my whole family in Uganda and much of the credit for this has to go to our Driver Jonan. He was great in both his capacities as driver and guide. As a driver he always made us feel safe and very comfortable at all times. Some of the other drivers on the road were a bit crazy (particularly the buses and taxis!) but we never felt uncomfortable at any one time, he could tell us stories about the country , actually he loves his job. I could see that Jonan never took any chances, and was prepared to wait to overtake rather than overtake where there wasn't a full, clear view of the road ahead. He always looked out for our safety first and that took any tension out of the long days on the road. He was also great at negotiating the unpaved roads, making sure the bumps are not too hard on us. He helped us a lot on finding cheap and nice accommodation, he had become not only a driver but also family. Thanks guys for everything

Kees de Jong , Holland– I can only give this company very big hands up, we had a great service from Uganda Car Rental Services. We enjoyed the Toyota Rav4 we hired from you, honestly the car was great, small, and easy to manage and so much in good condition, we never had any problem or issues with the car for all the 5 weeks we had hired it. Actually we miss our little blue Rav4 friend. I will let all my friends know about you people. Also I like the team; they are very helpful and friendly.
Willemjin & Adrian, Netherlands– Thank you so much for your services, we had a great self drive trip to Jinja, Murchison Falls, Kibale forest, Queen Elizabeth, Bwindi, Lake Bunyonyi, Lake Mburo and Kampala city. The Rav4 we hired was in good shape and it was a good travel companion as well. The most think I liked was the reception, the Reservations team was so quick and very responsive keep it up guys, especially Phionah, she was always checking on us, helping through with great advice about various destinations. We liked your service and will surely travel with you next time we think about Uganda.

Manuel Keller & Moira, Switerzland- Many thanks for organizing our successful trip to Uganda. It was my first visit to Uganda with my best friend and I was pleasantly surprised by the quality of service we were offered. The roads were better than expected and the vehicle we hired was perfect. We had 10 days in Uganda on self drive, it was massive and more than what we imagined.
Allan Hollinsworth, Netherlands- Our guide/driver, Julius made the best of our trip. We had come to Uganda on research about rocks, and we especially spent most of our time, in Bundibugyo district. He was calm, relaxed, knowledgeable, and good company. He also was a very good driver, which is pretty important out there.
Everything lived up to expectations; we even found caves and native Ugandans with whom our driver helped us to communicate! We saw lots of game although the leopards proved to be too elusive for us) and over 120 species of birds. Needless to say it was Julius who spotted them first and identified them. Thanks again for putting the trip together.
For more reviews you can visit- Google or Trip advisor -visit the office and speak with the reservations team.
CONTACT US NOW
Send in an email to info@ugandacarrentalservices.com or fill in this contact form and we will reply you as soon as possible. We are available to answer all your inquiries and get you the best service worth every penny you pay.