Touring a new destination is one activity that is a great emotional roller coaster , so many people take a lot of time to prepare for it and a mere thought about it gets you excited .whether it's your first time to traveling to Uganda or its your daily routine some things have to be done to avoid loathsome feeling at the end of your trip. We present to you some tips to give you that safe and comfortable experience on your Uganda tour adventure this season.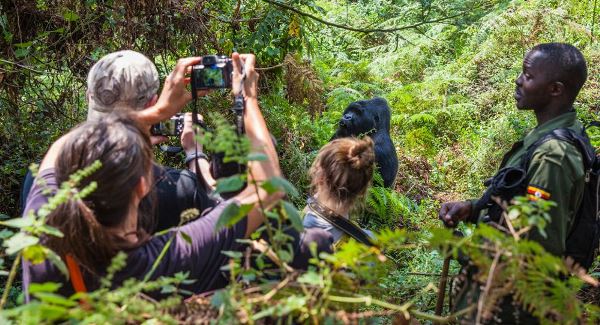 Be Patient
At times excitement gets us impatient but to have a culminating trip you should be patient with everyone and everything . you should wait in the traffic jam calmly ,be patient with your tour driver and the ranger .the order you made at the hotel might deal but stay input and relaxed and at the end of the trip you will be desire to extend some days in Uganda.
Time awareness
One English person said that." time before time is not time, time after time is not time but time is time". What he meant is that when you arrive before time you may get weary of waiting and at times even grow impatient and if you arrive after time you will have missed a lot because time and tide wait no man so endeavor to respect time to avoid being horrified.
Maintain a record
Endeavor to keep many records as possible and you can only do this by making your trip memorable through taking many photographs as possible. make as many stop overs as you want to take pictures even though the memories never fade you need to relive through them .At the end of the trip when you return home feel free to blog about it to share it with friends.
Associate with natives
One of the best way to make a trip interesting is to associate with the locals because they will help you explore hidden places and teach you new things . Take you around their community, teach you there local languages, how to prepare their traditional meals , teach you their cultural dances . It is so interesting to make new friends because it widens your trip accompaniment.
Budget and plan for your trip
Traveling is all about having fun, one of the sickening moments on a trip is when you money gets done when you still want to have some fun . So get over the worry about money and concentrate on your journey by budgeting because this helps you to have peace of mind and absorb easily in the pleasure you deserve.
Use Uganda tour operators
Why not spend your trip like a boss because there are people willing to serve you to your satisfaction. tour operators help you look for hotels basing on your budget, know the restaurants that provide the best buffets , the shortest routes to your destinations and this saves time because you don't have to feel burdened about all those things like where am I going to sleep instead of having a peaceful mind your worried about lunch .save yourself all that and hand it over to Uganda Car Rental Services
Stay for a while in a place.
To fall in love with something you have to first know it and this can't happen in a day . so why don't you stay for some time like two days ,a week in a place and observe all the beauty and the tourist points that were organized purposefully for you and this increases on the fun and satisfaction derived from your trip.
Taste the local dishes
Uganda is a cultural diverse state and each cultures with its local foods ….try out something new you this time. Get rid of the junk and preserved foods and try the rich nutrition food right from the blessed soils of the pearl of Africa. it won't take you so long to get the difference in taste so feel free to pack for the later time because am sure you will like it.
Use internet
You think you have seen it all but surely you haven't so before you visit the common places with a lot of crowding ,try out those hidden adventures in the country and break records , be among the first people to discover and visit given places . So use internet and scoop out these places and don't be mean when you see it share it, blog about it and expose it so that your fellow travelers see it.
Get insurance
As it is said where the God has a church ,the devil has a chapel meaning during the course of the enjoyment , something bad might happen so to overcome that always ensure that you are insured especially medical insurance because you never know what circumstance might occur . So to be safe and secure make insurance a must.
Follow these tips and you will be guaranteed of a memorable Uganda tour adventure , whether you are visiting a national park , city attraction or headed up-country. To book a guided or self drive tour in Uganda this season, simply get in touch with us by sending an email to info@ugandacarrentalservices.com or call us now on +256-700135510 to speak with the rese4rvations team.