Uganda is the third largest country in East Africa and thirty-second in Africa divided into 4 sub-regions namely Central, Eastern, Western & Northern regions. With up to 135 districts, there are plenty of locations in Uganda with some homes to some of the most popular tourist attractions in the country. The majority of roads leading to popular business and safari locations in Uganda are concrete, asphalt and gravel made while the off-road murram roads and game tracks are easily accessible with a 4×4 car.
You will need to rent a car in Uganda if you want to enjoy a safe and comfortable road but you have to take great notice of the location where you are booking the car from. The pick-up & drop-off location of a rental is a major factor the can influence the price of a rental car in Uganda hence you have to be careful when choosing where to start and end your road trip.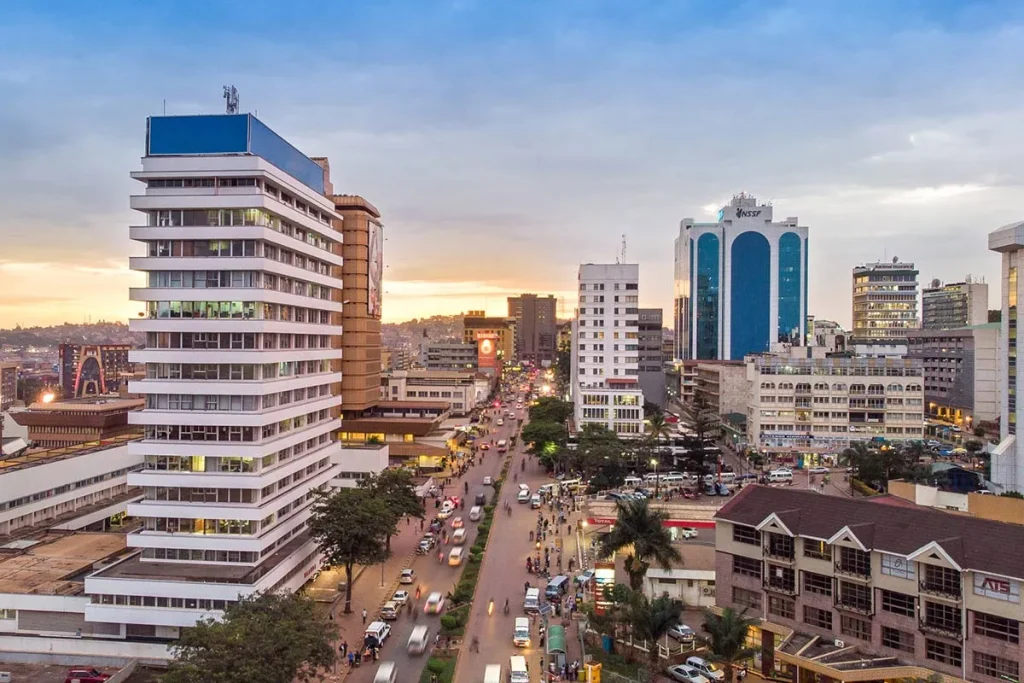 Uganda Car Rental Services is one of the top car hire agencies in Kampala and we are proud to present to you 5 of the best car rental locations in Uganda that will help you incur a small or no surcharge fee when make your booking.
1- Kampala City – Situated within the heart of central Uganda is the capital and busiest urban center in the country. Covering a total area of 189 km2, the city is one of the top car rental locations in Uganda and also the best base of exploration where you get a chance to sample the local way of living and culture. There are over 50 car rental companies based in Kampala city hence when you decide to book a rental starting from the city, expect no extra charge making it the most affordable location to rent a car in Uganda.
2- Entebbe city – Situated within Central Uganda strategically on the Lake Victoria peninsula 36 km southwest of Kampala city is Entebbe- one of the most beautiful lake-side locations in Uganda. Covering a total area of 56 km2, Entebbe City is home of Entebbe Airport, the Presidential State House, and Uganda Zoo among others. Some of the car rental companies situated in Kampala city will charge you extra for delivering the car to you at the airport but you won't incur any cost for companies within Entebbe or close to the airport.
3- Jinja – Situated in Eastern Uganda within the Busoga-sub region strategically near at the source of River Nile 81km east of Kampala city is Jinja – another top car rental location Uganda dubbed the Adventure capital of East Africa. Jinja is home to a variety of exciting land and water adventure sports including white water rafting, horseback riding, canoe rides, quad biking, and sundowner cruisers among others. There are just a handful of car rental companies in Jinja hence pick-up the car in this location will incur a minimal extra cost.
4- Mbarara – Situated in the western Region 230 km southwest of Kampala city is Mbarara- Uganda's second largest city and main commercial center for most southwestern districts. Granted city status in 2019, Mbarara is another good car rental location in Uganda and a perfect base for exploring some of the most popular national parks and attractions in western Uganda. Just like Jinja, Mbarara only has a few car rental companies hence delivery of the rental to the city will always incur an extra cost.
5- Gulu – Situated in the northern region of Uganda 333 km north of Kampala city is one of the best locations to hire a car in Northern Uganda. Once ravaged by the LRA army war, the city has developed into one of the safest districts in Uganda with an airport and base of some of the top NGOs in Africa. The city offers the perfect base to explore remote parks like Kidepo Valley and Murchison Falls National Park also get a chance to sample the culture of the infamous Karamajong warriors.
There are plenty of other Uganda car rental locations but the above 5 make the cut as most popular and affordable places to rent a car in Uganda. To book a rental car or service in any of the above 5 places, simply contact us now by sending an email to info@ugandacarrentalservices.com or call us now on +256-700135510 to speak with the reservations team.
Bryan Muhoozi