Uganda is one of the most popular safari destinations in Africa filled with a number of local and internationally recognized tourist attractions spread across different regions in with the majority situated in some of the most remote regions of the country. Driving to these destinations takes about 2 to 10 hours depending on the route you take but don't forget to book a 4×4 car when you decide to self drive Uganda this season as most of the off-road tracks require a vehicle that can handle the terrain.
Some of the popular tourist attractions in Uganda include wildlife, mountains, lakes, rivers and cultural tribes all of which you can access through tarmacked highways and dusty off-road tracks. There are various routes to get to the parks, cities & villages but the ones mentioned below are some of the most popular Uganda self drive routes clearly mapped out on the GPS with direction signposts.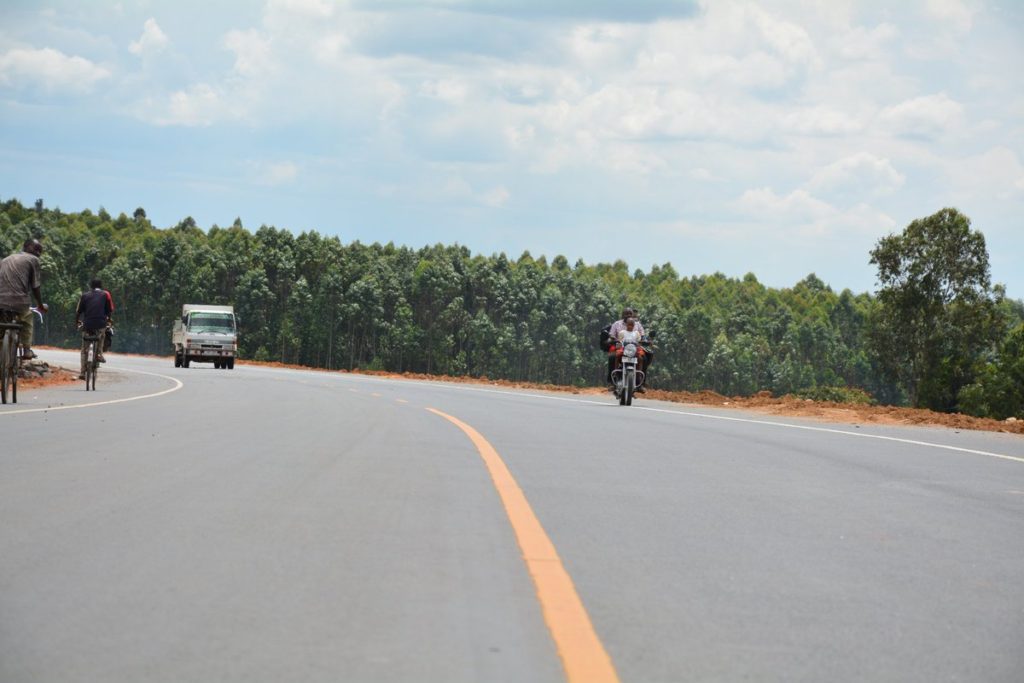 1- Kampala Entebbe Highway – The 51 km stretch from Entebbe to Kampala city is one of the most popular self drive routes in Uganda that connects the city to the main airport. The road trip can last about 1 and half hours if there not too much traffic on the road. Popular attractions you this route connects you to include The Entebbe Zoo, City center, beaches, botanical gardens, resort hotels and reptile village among other attractions.
2- Masaka Mbarara Road – Stretching up to 138 Km connecting central to western Uganda is another popular self-drive route that will take you to some of the most popular parks in Uganda. The road trip from Kampala to Mbarara lasts about 2 and half hours while if you travel from Masaka, it will just be an hour's drive. Top attractions along this stretch include Lake Mburo national park, Isingiro center, Kibale forest among others.
3- Kampala Masindi Road – This 213 km route takes you to Uganda's most popular wildlife parks – Murchison falls park and the Zziwa Rhino sanctuary. Most tourists love to self drive to Murchison falls park for a chance to encounter the Big Five species. Other popular attractions this route leads you to include the Budongo forest, Polish cemetery, Masindi crafts village.
4- Kampala Jinja highway – Jinja is ranked highly among the top Uganda self drive destinations and rightly so given its abundance of adventure sports activities as well conducive weather & welcoming locals. The 80 Km highway takes you to some of the most popular locations in eastern Uganda including River Nile which hosts a number of falls including Itanda & Bujagali, Lugazi sugar cane plantations, Fish landing sites, Source of the river nile, Jinja city center to mention but a few.
5- Masaka Mbarara Kasese route – If you are planning to visit Queen Elizabeth park for game drives & boat cruise along kazinga or want to get a glimpse of the incredible Mountain Rwenzori or do some primate tracking in Kibale forest, then the combined Masaka – Mbarara- Kasese route is guaranteed to take you to these destinations. Driving time from Masaka to Mbarara is about 1 hour while traveling from Mbarara to Kasese is about 2 hours and 42 minutes.
6- Kabale Mbarara road – Connecting Mbarara city with Ntungamo, Kabale & Katuna is another famous route used by tourists planning to visit Bwindi impenetrable forest for a chance to encounter the mountain gorillas in their wild habitat. The Bwindi national park is a designated UNESCO heritage site home to over half the population of surviving mountain gorillas with some of the most fascinating plant and bird species as well. The road stretches about 125 km starting from Mbarara and ending at the Rwanda border in Katuna.
So if you are planning to self drive Uganda this season and still haven't decided on which destination to visit or route to use, you can check out some of these popular routes for some inspiration. You can rent a car in Uganda and embark on a self-drive trip by simply sending us an email to info@ugandacarrentalservices.com or call us now on +256-700135510 to speak with our reservations team.
Bryan Muhoozi