Uganda is one of the most popular safari destinations in Uganda blessed with a number of attractions spread across all corners of the country. However not all regions are as blessed as the western and eastern regions, the majority of the most visited national parks and attractions in Uganda are situated in the western region followed by eastern Uganda.
I go by the name of Nuwahereza Anthony and have driven to all regions of Uganda, I must confess that the parks and attractions in the west & east are easy to access and have the most sought-after attractions. I was assigned a couple from Iran by the names of Reza & Sanaz who wanted to visit Jinja, Kapchorwa & Kabale for a safari adventure. They decided to rent a land cruiser in Uganda with a driver and they choose me as their personal guide which I really appreciated since i hadn't driven tourists from Asia.
Below is the 7 days Uganda safari adventure featuring locations, attractions, activities and accommodations.
Day 1- Airport Pick-up and transfer to Jinja city.
I picked up Rena & Sanaz at Entebbe airport in the evening and transferred them directly to Jinja checking in at the Jinja Nile resort hotel at 8 pm.
Day 2 – Jinja tour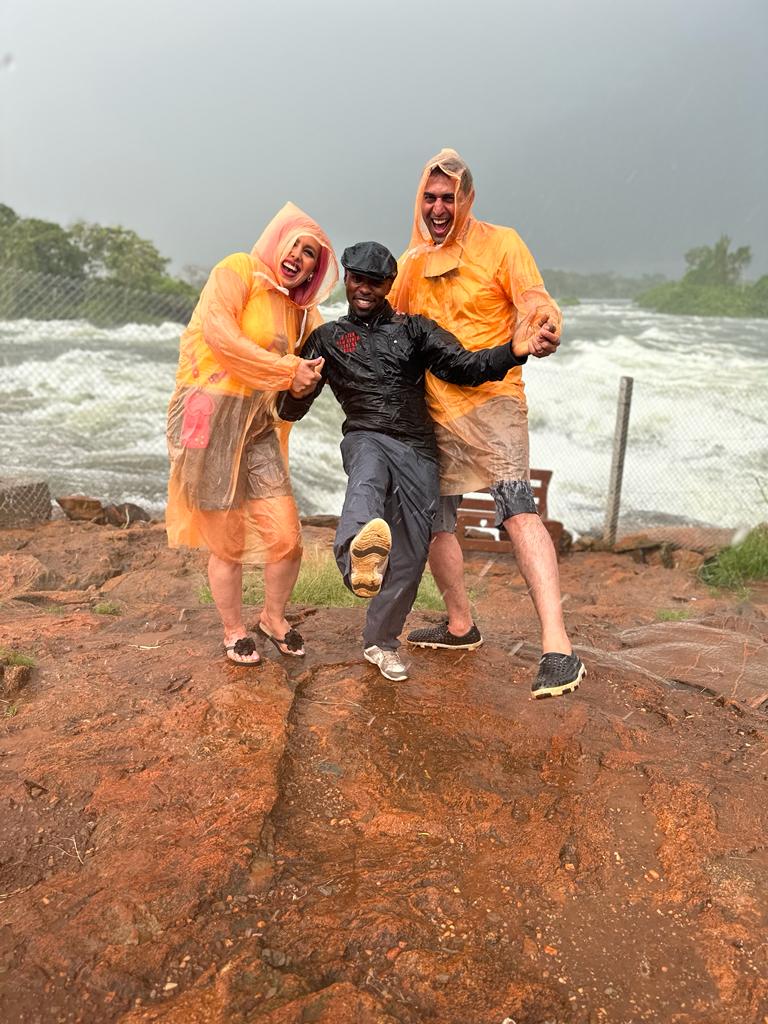 After an early morning breakfast, we set off for a full-day tour in Jinja city starting with a boat trip to the source of the Nile at 10am. We later made our way to Itanda falls for relaxation and pictures. We drove back to Jinja Nile resort ending the day.
Day 3 – White water rafting adventure.
After an early morning breakfast at the hotel, we drove off in our Land cruiser to White Nile Rafting – one of the best rafting companies in Jinja. Reza and Sanaz had booked a full-day white water rafting tour that started at and ended at 5 with a buffet and drinks. I picked them up at the endpoint and drove back to Jinja Nile resort for dinner and an overnight stay.
Day 4 – Transfer to Kapchorwa (Sipi Falls & Rock Abseiling)
We checked out of the Jinja Nile resort as early as 6 am and drove to Kapchorwa in the Land cruiser prado with the road trip lasting about 4 hours. We reached Sipi falls by 10am and started the hike to all three falls enjoying beautiful views of the hills, valleys, coffee plantations and meet locals plus we got chance to visit a cave.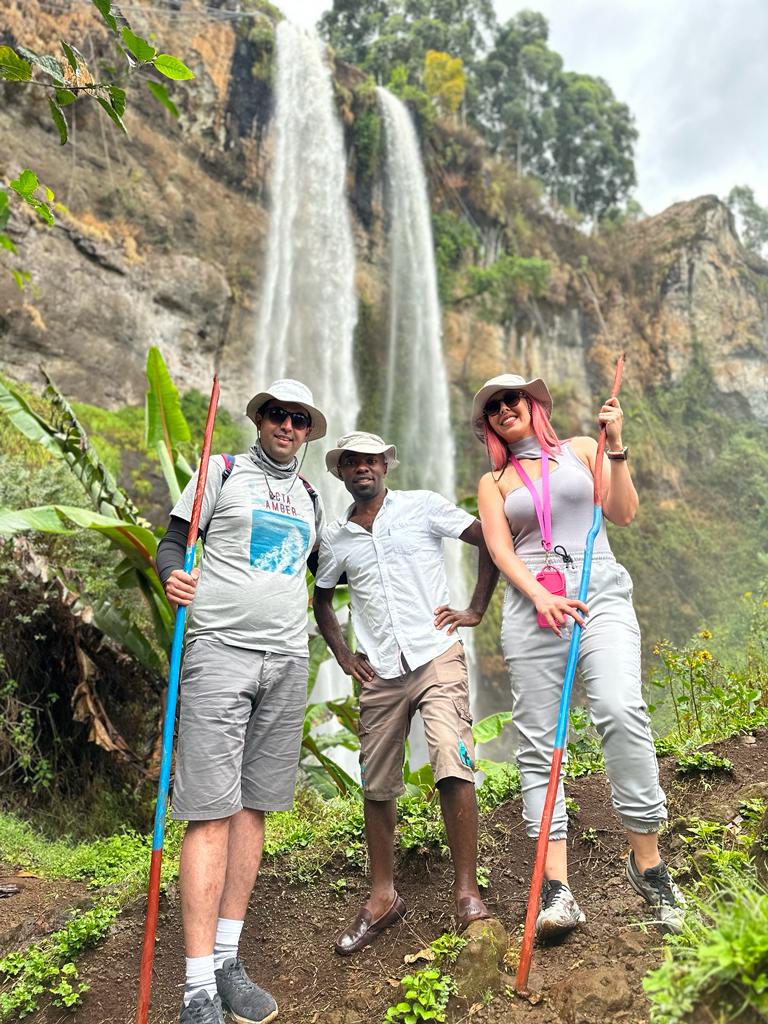 Later in the afternoon, we drove to Robs Rolling Rock for an adrenaline-pumping 100-meter rock abseiling on the foothills of Mountain Elgon. After the rock abseil, we drove back to Jinja spending the night at Jinja Nile resort.
Day 5 – Transfer from Jinja To Lake Bunyonyi
We said goodbye to Jinja and hello to Lake Bunyonyi making a stopover in Kabale for lunch and relaxation. We checked in at the Bunyonyi eco hub strategically situated at Itambira island.
Day 6 – Bunyonyi Islands tour
We enjoyed our breakfast and then drove off to the shores for a 5 hours boat trip to some of the most popular islands on Lake Bunyonyi taking photos of birds, landscapes as well as local Bakiga fishing and farming. Dinner and overnight stay at Bunyonyi eco hub.
Day 7- Kampala City tour
We checked out Bunyonyi eco hub and started our journey to Kampala making a stopover at the Equator for pictures and souvenirs. We had short tour around Kampala city doing some shopping before i dropped off at the Admas Grand Hotel ending the trip.
Overall we really had a great safari adventure in East and Western Uganda and would highly recommend Jinja, Kapchorwa and Kabale as good tourist destinations in Uganda. You can hire a land cruiser in Uganda with Nuwahereza Anthony as your personal driver by simply sending us an email to info@ugandacarrentalservices.com or call us now on +256-700135510 to speak with the team.