.5 days Uganda Rwanda gorilla safari bids you the best double endangered mountain gorilla trekking experience in both Bwindi impenetrable national park in Uganda and Volcanoes national park in Rwanda.
Bwindi Impenetrable national park is the home of the highest number of endangered primates in the whole world which is found in the southwestern part of the country. Its side to be having over 500 of the 900 mountain gorillas that are remaining worldwide making it so easy for them to be accessed quickly and easily in Uganda than the rest of the countries like Congo and Rwanda that share the remaining 400. It habituates 11 gorilla groups or families that can be trekked by tourists during the exciting activity of gorilla trekking. Besides endangered mountain gorillas, the impenetrable forest is also home to several other mammals like colobus monkeys, red-tailed monkeys, baboons, different bird species, and butterflies along others.
Volcanoes national park, Rwanda's most popular and Africa's oldest national park suitably located in the northwest, covers 160km(62sqm) of rainforest, and comprehends five of the eight volcanoes in the Virunga mountains namely; Karisimbi, Gahinga, Bisoke, Sabyinyo and Muhabura, home to the enormous population of the endangered Mountain gorillas, the erratic golden monkeys, bushbucks, black-fronted duiker, buffaloes, spotted hyenas with a population between 1760 -7040 animals, 178 recorded bird species with 13 of the species being subspecies and endemic to the Virunga and Rwenzori mountain. Gorilla trekking, bird watching, nature walks, golden monkey trekking, and hiking to the top are the major activities carried out in the Volcanoes national park. Therefore your 5 days Uganda Rwanda gorilla safari is highly expected to be rewarded.

Highlights: Airport or hotel pick up, 4X4 Safari van, Gorilla trekking both in Uganda and Rwanda, Border crossing fee, Ibiwachu cultural village, City tour.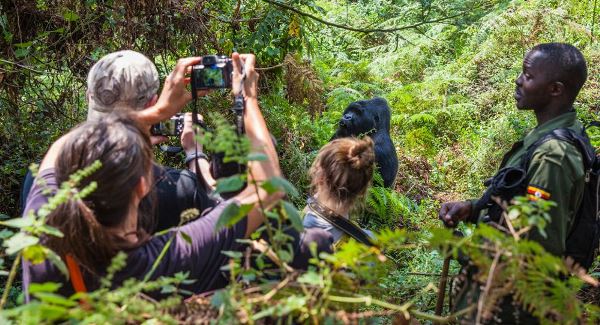 DAY 1: TRANSFER TO BWINDI IMPENETRABLE NATIONAL PARK
A great welcome from our experienced English/Rwanda-speaking driver guide who will be waiting for you at the international airport of Entebbe to our 4×4 compatible safari van and head southwest of Uganda through Kampala the capital. The beautiful scenery of the evergreen savanna, the mountain ranges which spread to hundreds of kilometers in length and are connected by ridges while separated by valleys, the highway wonders of both rural and semi-urban zones with numerous vegetable and fruit markets, the stunning imaginary line around the middle of a planet (Equator) all will make your trip to Bwindi impenetrable forest national park and experience beyond others.
En-route lunch as you check in the park for dinner and overnight at Gorilla Safari lodge(up-market), Broadbill Forest Camp(mid-range), and Crested Crane(budget).

DAY 2: GORILLA TREKKING
In preparation for the big day, wake up early enough for your first hasty meal to help set you up for the most exciting activity of gorilla trekking through the thickest impenetrable forest of Bwindi the home of the highest number of endangered primates which requires a degree of fitness, light waterproof comfortable boots, long jungle pants, mineral water, light clothes and other trekking gears as guided by the well trained and experienced park guide not forgetting a bag of patience and a sense of humor to edify the expectation.
Through the tall twisted vines and antique trees that carpet the southwestern rainforest of Bwindi with the help of an expert trainer or guide clearing the way with a fine-edged machete, on a lucky day, you will meet the endangered primates face-to-face within the first 4 hours and for just an hour you will be let to watch them closely and quietly as they enjoy their lives in the natural setting. At no extra cost, you are also most likely to encounter several other primates like spotted hyenas, black-fronted duiker, bushbucks, and several bird species like the brown-necked parrot, Archer's robin-chat, African long-eared owl, Dusky Crimsonwing, red-faced woodland warbler, handsome francolin, Rwenzori batis and many others. Dinner and overnight at Gorilla Safari lodge(up-market), Broadbill Forest Camp(mid-range), and Crested Crane(budget).

DAY 3: TRANSFER TO RWANDA
With all the excitement, wake up for an English breakfast as you prepare for your journey to the Cyanika border, Kisolo district still in southwestern Uganda for your entry into the Republic of Rwanda through the rolling hills and mountains of the great Kabale along the green savannah cover that calls one to feel sleepy. Dinner and overnight at Hotel Muhabura or Gorilla View lodge.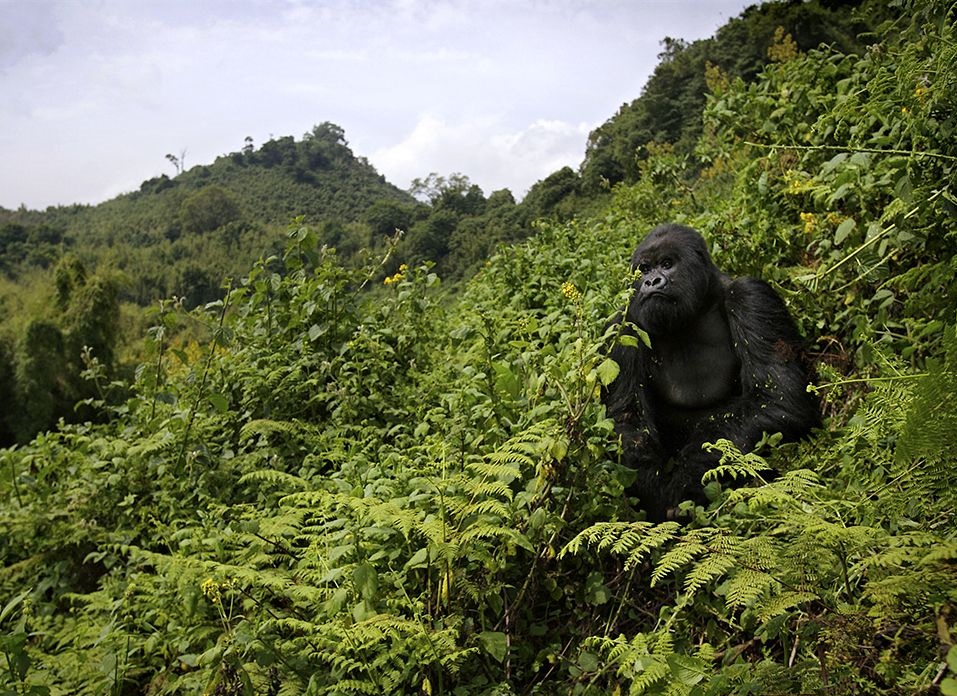 DAY 4: GORILLA TREKKING & NATURE WALK
Up for breakfast to warm you up and prepare you for the main activity of the safari, Gorilla trekking which requires some degree of fitness, comfortable and strong boots, drinking water, and trekking devices among others as you will be guided by the experienced guides minutes before the exciting activity which may take 4-6 hours deep in the forest before you meet these amazing endangered primates. You are expected to carry some sense of humor to make the walk interesting until you meet the mountain gorilla enjoying the wild which doesn't exceed an hour in their encounter. Enjoy your packed lunch in an advisable spot as you head for a nature walk around the Ruhengeri community for a Rwanda cultural experience. Retire to the lodge for dinner and overnight.

DAY 5: KIGALI CITY TOUR & AIRPORT DROPOFF
Up for breakfast as you check out of Volcanoes national park to Kigali the capital of Rwanda for a city tour and Airport drops off or the hotel of your choice where our safari is expected to end.
END OF TRIP

To book a gorilla safari in Uganda & Rwanda today, simply get in touch with us by sending an email to info@ugandacarrentalservices.com or call us now on +256-700135510 to speak with our reservations team.