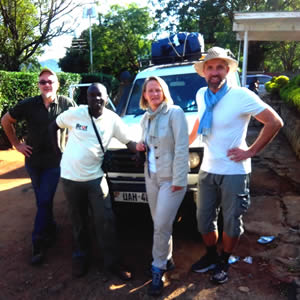 I am by name of Haruna Kakimba a Ugandan and a proud driver offering sufficient services with Mumwe Global Safaris. I pride in providing guided trips to awesome national parks in the Pearl of Africa, around Kampala and so many tourists destinations. I have an experience of more than 12 years, so I have been to different parts of Uganda as well as outside it.
Due to the incredible experience I acquired in travelling to countries like Rwanda, Kenya, DR. Congo and so many more countries including my homeland indicates that you will definitely enjoy a rewarding road trip adventure. You will learn about the history of the East Africans, the beautiful wildlife and many more fascinating destinations.
I have earned training from Uganda Safari Association (USAGA) and acquired knowledge about mechanics so I can solve any car breakdown if it happens on our way, thus you don't need to worry about the nature of experience on your safari.
Languages spoken include; fluent English,Lusoga, Langi, Lukiga Runyankole, Luganda plus some other local languages.
Are you willing to explore and feel the beauty of Uganda's national parks? Do not hesitate to hire Haruna Kakimba as your personal driver throughout your safari and you will not regret any single penny you paid for your Uganda safari. For more inquiries, contact our reservation team by sending an email info@ugandacarrentalservices.com or call us on +256-700135510 / +256 414-699459 to talk to speak to our customer care.