Lake Mburo national park is een van Oeganda kleinste savanne park ligt in het westen van Oeganda. Het is de thuisbasis van maximaal 68 soorten zoogdieren, 350 vogelsoorten en meer dan 13 kleine kratermeren onder andere attracties. Het park werd ooit bedekt door de savanne vegetatie, maar nu een groot deel van het bos, omdat ze geen olifanten temmen steeds grotere bossen. Verwacht bezienswaardigheden van enorme kuddes zebra's en elanden die gevonden kunnen worden in dit park en Kidepo vallei. Andere dieren omvatten wrattenzwijnen, waterbokken, hyena's, buffels, oribi, rietbokken, krokodillen, nijlpaarden onder anderen en als je geluk hebt u de leeuwen en luipaarden kunnen spotten. Vogels om uit te kijken naar onder meer de zeldzame schoen, Afrikaanse vin voet, roodwangbaardvogel, Zadel-gefactureerde ooievaar, Afro-wattled kievit, Afrikaanse Dwergooruil, Tabora Cisticola onder anderen. Er zijn tal van spannende toeristische activiteiten te doen in het park, waaronder game drives, boottochten, vogels kijken, wandelingen in de natuur maar ook bezoeken aan naburige lokale gemeenschappen.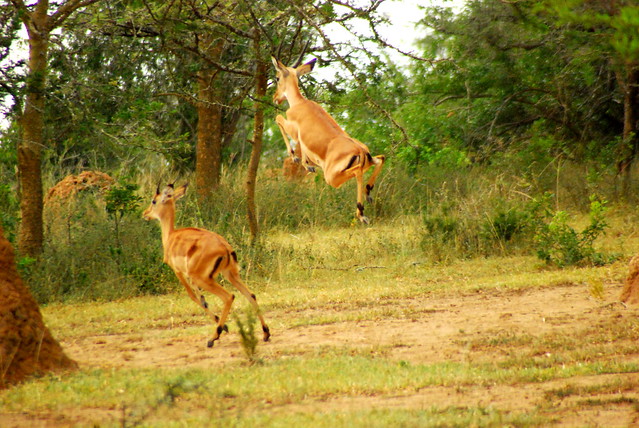 Als u van plan bent een zelf rijden safari naar Lake Mburo park dit seizoen, is hieronder gedetailleerde routebeschrijving dat u de volledige ervaring van een van de beste wildparken in Oeganda zal geven
Dag 1 – Rit naar Lake Mburo ParkAfstand tot het park is afhankelijk van de locatie waar het bedrijf bood u de huurauto. Het duurt ongeveer 3 tot 4 uur naar het park te bereiken als u rijdt vanuit Kampala stad of Entebbe Airport, terwijl het slechts een uur rijden als je road trip van Mbarara de stad te beginnen. Je zal met behulp van de Kampala-Masaka weg en Mbarara-Masaka weg om er te komen. Er is genoeg van de accommodatie binnen en in de omgeving van het park, maar het is aan te raden je van tevoren reserveren om te voorkomen dat het krijgen van een kamer die je wilde. Check in bij de lodge / hotel / camp en te ontspannen als je voor te bereiden voor de activiteiten van de volgende dag.
Tip: Vergeet niet om brandstof in de stad en uit te voeren back-up om eventuele overlast te voorkomen
Dag 2- Spel Rijden & Boot reisNa een vroeg ontbijt, maak je klaar voor de rit door de vlaktes waar u een verscheidenheid van zoogdieren en vogels zal tegenkomen als u zich vergapen aan de prachtige landschappen en de vele kratermeren. Lake Mburo is de thuisbasis van de grootste populatie van de prachtige gestripte Afrikaanse zebra's en elanden. Op een gelukkige dag, mag u de luipaarden en leeuwen die graag verstoppen overdag spot andere-gewijs verwacht wrattenzwijnen, rietbokken, waterbokken en diverse soorten antilopen en vogels te zien. U kunt rijden naar het zout lek gebieden in de volksmond bezocht door wilde dieren die graag zout lekken van de grond. Transfer terug naar uw lodge of hotel voor de lunch en kort dutje terwijl je voor te bereiden op het meer tour. Rit naar het meer haven, park en reserveer nu uw tickets voor de boottocht op Mburo meer, de 3 uur durende rit biedt u de kans om de krokodillen en nijlpaarden plus een verscheidenheid aan watervogels te zien. Vergeet niet om 3-4 flessen water te dragen als het echt warm kan krijgen die er zijn. Na de boot zet u af bij de kust, heb je de optie van een verblijf in de buurt of het rijden terug naar uw accommodatie
Tip: Vroeg opstaan ​​voor de kans om de vroege vogels spotten en niet te hoge snelheid of blaas de claxon wanneer op het parcours.
Dag 3 – VertrekkenAfhankelijk van welke tijd u wilt aankomen in Kampala, kunt u blijven een beetje langer of uitchecken in de ochtend en rijden terug of naar een andere bestemming die u wilt bezoeken tijdens uw geplande self drive safari in Uganda.
Van plan om Lake Mburo nationale bezoeken en vereisen een auto voor de road trip, Uganda Car Rental Services biedt een breed scala aan safari auto's ideaal voor het park tours. Stuur ons een e-mail naar info@ugandacarrentalservices.com~~V of bel ons op + 256-700.135.510 met de reserveringen team te spreken.