A chauffeur is a person hired to drive a passenger vehicle and that's why choosing the right driver is very important as it make or break the road trip or event. Before you hire a driver in Uganda, you need to look hard into their qualifications, experience as well as reviews if available among other factors if you want to have safe and comfortable journey. There are several companies offering chauffeurs at varying prices per day and that's why you need to consider some of the following characteristics to get a chauffeur that suits your needs, personal style and most importantly your price range.
Below are 5 characteristics of good chauffeur that you should strongly consider before finalizing the reservation.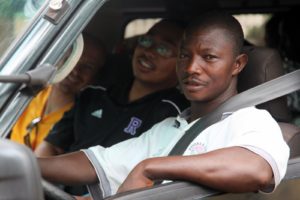 Valid Driver License/ Permit
Always get a personal driver with a valid permit to avoid bumping into traffic authorities along the streets and busy intersections. This information is always offered in the persons profile but that doesn't mean its accurate and that's why you need to ask for latest profile.
Training
You need to find out if the driver has undergone training courses through registered and reputable schools to get a good insight of the person you will be traveling with. Is he/she well informed about traffic rules and signs?, Does he have verified certificate to prove it? , these and other qualities indicate the level of professionalism of whoever you will be hiring for the road trip.
Experience
The number of years a driver has been on the road is also an important factor to consider when choosing one. The longer, the better as you can be guaranteed of excellent service from a person who has been doing this for several years hence knows the way around plus all the popular and less known places in town and across the country to remote destinations.
Appearance
The way a driver is dressed and handles himself speaks volumes of what service to expect. Go with a chauffeur company whose drivers have a clean nice uniform, well groomed with short hair and most definitely fresh body fragrance and mouth breath. Luxury cars are hired for special events like weddings and that's why you would want someone driving your bride, groom and guests to be dressed in nice black suit not in a casual t-shirt and jean.
Car Knowledge
The perfect driver has knowledge about both automatic and manual cars and if you can get someone like this , then rest assured you are in safe hands. Most drivers in Uganda have been trained using manual transmission cars hence you cant fail to find one who can handle both as the automatic ones are way easy to learn compared to the latter.
Language diversity
Just like good tour guide is entitled to learning a variety local and foreign languages, so should a driver as this is very helpful in communicating with different races from across the world. Popular languages used in Uganda include English, Luganda, Swahili but if you can find a driver who can understand French, German, Spanish or any other languages, then you should choose him as soon as possible as such people are always social friendly out-going people who will keep you entertained with conversations of all kind.
There are plenty of other characteristics that make a good chauffeur in Uganda but these basic six factors will help you get the best driver for any occasion. To book or inquire about our services, simply send in your email to info@ugandacarrentalservices.com or call us now on +256-70013510.