Beautiful as it is, Uganda is one country which you will definitely fall in love with once you step into this paradise. Imagine visiting a country with half of the world's population of Mountain Gorillas, breath-taking waterfalls like the Murchison Falls, magnificent mountains like Rwenzori which happens to have two of the highest peaks in Africa, beautiful wildlife including the big five and so many varieties and species of birds some of which are rare in this planet, a remarkable culture with many regions having kingdoms including Busoga, Buganda, Tooro, and Bunyoro. The only country with more than 30 tribes.
History
In the late 1960s, Tourism was Uganda's 4th biggest earner of foreign exchange, it was visited by over 100,000 tourists every year. The tourism industry deteriorated in the early 1970's because of political instability though by 1980's it stabilised.
The loss of wildlife in popular safari parks like Murchison falls National park & Queen Elizabeth National Park prevented these parks to be on the same level with tourist attractions in neighbouring Kenya & Tanzania. The major attraction of the new Industry became Bwindi Impenetrable National Park mainly because it alone has more than 400 Mountain Gorillas which is approximately half of the world's population of Mountain Gorillas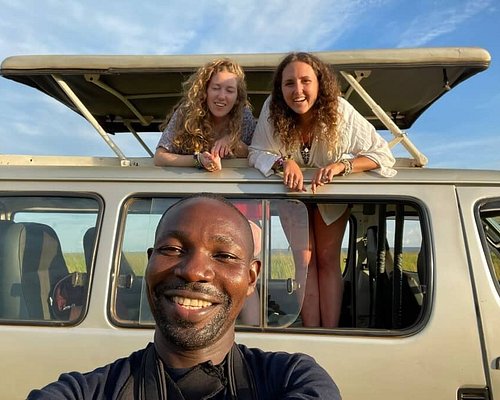 How To Get Around
The Pearl Of Africa a very large destination and if you plan on doing a tour in Uganda with friends or family , then you should consider the safest, most comfortable and private way. The best option by far is if you rent a car online from a travel company, order a private cab to take you around or book a charter flight. We at Uganda car rental services take great pleasure in offering out a wide range cars for hire on self drive basis or with a professional driver. Just let us the locations you will be visiting, number of people and days and our team will avail you the most suitable car for the occasion.
Major Parks
Queen Elizabeth National Park
This is the most visited park in Uganda no wonder it has classic big game, primates like chimpanzees and over 600 bird species. The park also has dozens of magnificent craters carved into rolling green hills, beautiful views of the Kazinga channel where you will find buffaloes, hippos, elephants, with tree climbing lions on the fig trees. This park is found on the slopes of mount Rwenzori.
Bwindi Impenetrable National Park
Lying on the south-western part of Uganda, this park has Uganda's oldest rainforest which dates back over 25000 years. This forest contains an estimated 400 species of plants over 400 mountain Gorillas which alone isroughly half of the world's population and the biggest attraction for tourists who visit the pearl of Africa.
Mount Rwenzori National Park
Also known as '' Mountains of the moon,'' Rwenzori Mountain lies in Western Uganda next to the Uganda-Congo border. This mountain has the 3rd highest peak in Africa, making it a top tourist destination. The National park is a habitat for 70 mammals, 217 bird species including 19 Albertine Rift endemics as well as some vegetation that's very rare in the world.
Major attractions
Source of the Nile
Uganda is where you will find the source of the longest river in the world that is the Nile making it a top tourist destination. The source which is found in Jinja, eastern Uganda offers some activities like white water rafting & game fishing.
River Nile
The longest river in the world is found here in Uganda and this makes it a major tourist attraction with lots of tourists coming in to the country just to view this river that has been here for centuries. The tourists while on the river can do activities like boat cruising, white water rafting, game fishing which is mostly done in Jinja.
Ndere Cultural Centre
Ndere cultural centre is a place where you will get to experience the beautiful traditional dance and music of Uganda.
Open to the public every Friday, Sunday and Wednesday evening time, Ndere has a 700-seat theatre where you and your family will enjoy dinner while viewing the performance of energetic dancing & music that reflects the culture of the several tribes in Uganda.
Kampala City
First of all being the capital city of Uganda alone, you will not want to miss out visiting this wonderful town. This beautiful city has a lot to offer and it covers a lot of other places that you may want to visit since many of the country's attractions also can be found here. Some may include The Uganda Museum, Owino market, Rubaga cathedral, Kasubi tombs among others. There are also a variety of restaurants and bars for those that love to eat and drink.
Culture
Uganda, a place with a very rich captivating culture. So many tribes including over 30 of them and each with its own culture and traditions. Kingdoms including Buganda, Busoga, Tooro, Bunyoro with each having a king leading them.
Uganda has so many cultural sites some of which may include Kasubi tombs, where the dead kings of Buganda kingdom are buried, Namugongo Martyrs' shrine, a place where Uganda Christians where burnt and killed for their faith, Ndere cultural centre where you will experience the performances of dance and music of the various different tribes of Uganda. All these places are found in Kampala.
Wildlife
Uganda is composed of flora & fauna with a range of habitats and is known for primates like chimpanzees and gorillas. There are 345 species of mammals and 1020 bird species in the ten national parks and thirteen wildlife reserves all over the country. The most popular wildlife attraction are the mountain gorillas found in south western parks of the country that is Bwindi impenetrable National Park and Kibale National park being the most visited
There is alot about Uganda than meets the eye, come and explore and see for yourself. Uganda Car Rental services can organize a fully detailed itinerary or just offer you a rental car for self drive or guided group. You can contact us now by sending an email to info@ugandacarrentalservices.com or call us now on +256-700135510 and talk to our team of travel experts.