Standing on the infamous 7 Hills is Kampala, the capital city of Uganda and the largest urban center. But besides all this, there are a variety of local tourist attractions that lure tourists to this amazing city. Whether you looking for that cultural experience, business or entertainment in Uganda, Kampala city will give you all and more with visits to popular cultural and historic sites, religious places, local craft shops and some of the best hangout spots around.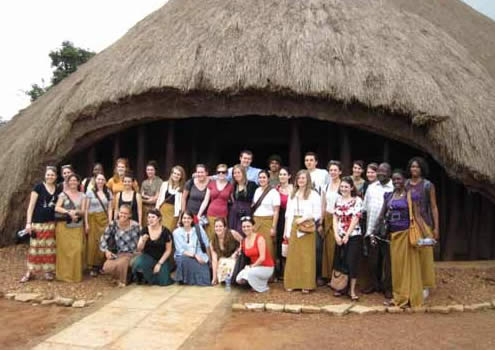 To visit these places safely and comfortably, you will need to rent a car in Kampala online or in person at an office. You can hire a car with driver or go for the more private and affordable self drive option as you explore the numerous sites. Below are some of the best places in Kampala to visit with a rental car in Uganda, all attractions are close to the city center so you won't have to worry about the fuel costs.
Mengo Hill
A drive to Mengo offers you chance to learn about Buganda Kingdom's rich culture and history taking you to Kabaka's palace, Buganda parliament and Kabaka's lake. It only takes about 20 minutes to get to Mengo from the city center but sometimes the heavy traffic jam might increase the road trip duration. You can also make you way to the Mengo hospital, an ancient hospital built by catholic missionaries way back in the 1800s
Kasubi Hill
Once known as Nabulagala, Kasubi hill is home to one of the most important Buganda cultural sites and that is the Kasubi tombs, the official burial grounds for the Buganda kings (ba'Kabaka) with four already buried there. These tombs have been recognized as a world heritage site flocked by thousands of tourists until that tragic fire burnt them down in 2010.

Namirembe & Rubaga Hills
Rent a car and drive to these two hills if you want to learn more about the religious history of Uganda. Both Anglican churches are just a few miles apart with one in Namirembe and the other in Lubaga. The exterior and interior architecture of these ancient cathedrals are such a marvel and when you add that to the historic significance, you won't regret your visit.

Central city
The city is might be crowded with traffic and locals but is also among the best places to visit if you want to sample city life. From the local markets, craft shops, shopping malls, restaurants, bars and nightclubs, you will get the best leisure experience in Kampala. Driving around the city is no easy task given the various unmarked streets and traffic jam and that's why we at Uganda Car Rental Services recommend you to hire a driver to avoid getting lost or any other related problem.
There are a variety of other places to visit with a rental car in Kampala city but the above-mentioned 4 regions take the cut if you want to experience the culture and history of Uganda. To explore Kampala today with or without a driver, simply send us an email to info@ugandacarrentalservices.com or call us now on +256-700135510
Bryan Muhoozi