We all want that safe, comfortable road trip experience. If you are planning a guided trip in Uganda, starting off with preparations ahead of time is always the best idea if you don't want any inconveniences. Apart from thinking about the rental car , you also need to strongly consider the driver who will be guiding you around.
Here are few tips to help you book the right driver and save money & time.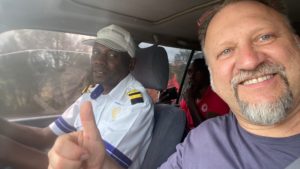 Nationality – If you plan to hire a driver in Uganda, then you get a Ugandan citizen with the reason being that local drivers have been around for a long time and guarantee to give you accurate information about the destinations you will be visiting plus a chance of getting lost a very low.
Company Profile– Read through the driver's profile taking note of past reviews from customers as well as his personal background including driving license, level of experience, literacy level, traffic records among other useful information that highlights the person as a qualified driver. A social page is also a big part of the profile; Facebook, Twitter, Instagram show some of the places he or she has been to, clients they have been with plus customer reviews as well- so don't forget to look into that as well when on the profile page.
Experience Level – This is a very important factor if you plan on hiring a driver anywhere in the world; you need someone who has been driving for a long time because you can be sure you won't have any problems like getting lost, arriving late or getting at the wrong side of the traffic police among other problems that may arise when in the hands of an amateur. A valid driver's permit of over 6 years symbolizes experience and the higher the number of years, the better equipped.
Mechanical Knowledge– Always book a driver who can fix a minor car mechanical problem in case one arises; it will be an inconvenience if you have to wait along the road for a professional mechanic yet your personal driver can get the job done.
Driving abilities – Not all drivers in Uganda can handle manual cars, go with someone with knowledge about both auto and manual car transmissions as this is very vital in-case you have to replace a car and continue a road trip. Plus you need to get a driver with a good traffic record; one who obeys the traffic rules diligently.
Customer Reviews – A good review about a driver puts any client's mind at ease since you can be sure you wont have any problems along the road trip. Read through the reviews and analyze what traits make him/ her adored by past clients; it could the smartness, attention to detail, handy, friendliness, adequate knowledge about places and routes among others.
So if you plan on hiring a driver for guided road trip around town, park or any other destination in Uganda, the above tips should allow you make a smart decision. You can book a driver online today with Uganda Car Rental Services- we have a team of well-trained friendly local drivers with valid driver permits and adequate knowledge ready to give you a comfortable ride. To contact us today , simply send us an email to info@ugandacarrentalservices.com or call us now at +256-700135510 to speak with our booking team