SUVs  in full is  Sport Utility Vehicles have from the ancient times or historically been or built as mid-sized passenger vehicles featuring a body on frame chassis that is quite similar to that found on light trucks and station wagons manufactured across the world. Although the designs vary, early SUVs were mainly two-door models and currently variety of four door models have been built as well and running greatly on market. In Uganda today, SUVs are proudly standing on the car rental board readily out competing minivans, station wagons and trucks. SUV rentals are ideal for individuals and families who are planning on making family trips, camping trips and those business folks that have a lot of samples to carry around because of its comfortable cargo space. Rooms is commonly a main factor for many people while renting cars , if you need space that can fit an amount of luggage and do not want to  hire a station wagon or minivan, then consider an SUV rental.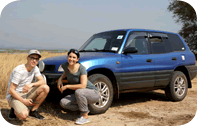 Booking a cheap SUV rental and station wagons at the car hire company last minute can cause a number of problems including a long line of waiting and sometimes find no car available for you. Regardless of your need, travel period or budget for an SUV, book your vehicle now through info@ugandacarrentalservices.com.
Below are some of the categories of SUVs for hire in Uganda available for self drive & driver guided tours
Mini SUV
This is a beautiful class of small sports Utility vehicles which a big population of travellers is running to buy or rent. The original little SUV is the Nissan Juke but a number of other easy to manage options have been brought on market as well including the Peugeot, Mercedes Benz ML, Honda Vezel,  Jeep Renegade and so many more.
Compact SUV
The main difference of a compact SUV and Mini SUV is that, the compact class is quite smaller and is commonly built with small cargo and passenger space compared to others. If you take a closer look, these compact SUVs are built with small engines hence having a better fuel economy hence comfortable for travellers that need to use them for long trips. Examples of Compact SUVs, Toyota Rav4, Audi, Ford, Renault, Range Rover and many more.
Full size SUV
This is a class of large – size SUVs and these are larger than the compact and mid-size types. These have greater passenger and cargo space and are commonly given higher safety rating s which include a raised chaises, 4 wheel drive, strong wheel balance that can handle all rough terrain. These also fall under a similar category  or resemblance like the common station wagons, it is very  hard to  tell the difference unless you  are good with details.  Examples include Nissan Patrol, Land rover discovery, Land cruiser Prado, Land cruiser extended, Surf, Mitsubishi, and so many more.
Whether you are preparing for a wedding day, business trip or just wildlife safari, book a cheap SUV in Uganda with Uganda Car Rental Services, we offer variety of these in good condition, comfortable seating arrangement, air conditioning, 4 wheel drive, and professional drivers. To  book a cheap SUV in Uganda, send us an email at info@ugandacarrentalservices.com or call directly +256700135510, +256414699459