It is always important and recommended to keep your car clean and efficient at all times in order to avoid mechanical breakdowns and also for your comfort. This can be easily done without even investing a lot of money and below are some advisory tips of how you can do it;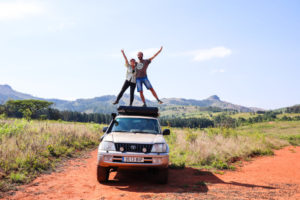 Always keep your car in a good mechanical condition
A poorly serviced car will make you spend a lot while on the road that is to say it has high fuel consumption rates (15% more) and can breakdown very easily. Make sure you take your car to a skilled mechanic regularly for servicing.
Always drive carefully, sensibly and smoothly
Try as much as you can to avoid rapid/sudden acceleration and braking as it is dangerous and consumes a lot of fuel. Make sure you fully utilize all the gears as it minimizes the use of brakes hence giving you a smoother and more comfortable ride.
Drive at a moderate speed at all times
As much as driving very fast may save your time, it may also cost you your life. Driving very speedily increases the risk of crashes and also consumes much of your fuel.
Always make sure you use the air conditioners especially while driving along dusty roads and also remove the roof rack if you are not using it. This reduces the wind resistance that prevents the engine from being over worked prevents dust from entering the car and hence helps in keeping its interior clean.
With the above tips you can be guaranteed to have a safe and comfortable road trip. You can rent car in Uganda today by sending an email to info@ugandacarrentalservices.com or call us on +256-700135510 to speak with our reservations team.