Traveling in a group as family, friends or workmates will make any trip fun and engaging, you won't get bored or feel alone in a foreign country so you can be assured of a safe and bonding holiday. You have to book accommodation and activities that fit the number of people you are traveling with but the most important item you should put on the list is the type of car to hire that's perfect for group safaris in Uganda and can be driven on terrain types including the city, remote villages and national parks.
There are a variety of mid-sized rental cars in Uganda that can accommodate between 6 to 28 passengers some of which are sedans and others 4×4 safari cars. A majority of the car agencies prefer offering the cars along with a professional driver excluding fuel but you can negotiate with them and book a car on self drive with both options excluding fuel costs but including insurance and covering government costs.
Below are top 3 cars for hire if you are planning to visit Uganda with family and friends this season. All are cars are in good condition and available for self drive and guided road trips.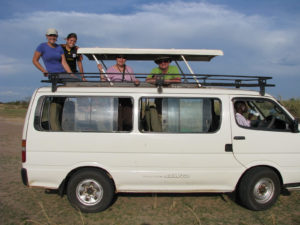 Minivan
The Toyota safari or tourist van tops the list given the adequate passenger room, cargo space and pop-up roof. It can accommodate up to 8 passengers including a driver with an FM transmission, air-conditioner to add to the comfortable seats. Most companies offering car hire in Uganda will offer the van to you along with a driver for safety precautions since these cars operate on manual transmission but if you prefer a self drive trip, then you should travel with someone with an international driver's license with adequate car experience. Car Hire costs for a mini-van in Uganda range between US$ 70 to 100 per day depending on the number of days you wish to use the car plus the rental option you prefer.
Safari Land Cruiser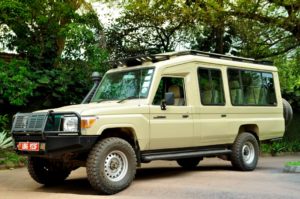 The 4×4 safari car is another invention of Toyota Motors, Japan's leading automobile manufacturer. The Land cruiser can accommodate up to 8 people comfortably equipped with an inbuilt fridge, air-conditioner, spacious cargo space in rear and roof top plus a pop-up roof for game viewing. A family or group of 5 to 7 people will definitely find this car quite the catch. You can hire a safari land cruiser in Uganda at US$ 120 to 170 per day including a driver making it the most expensive group car around town.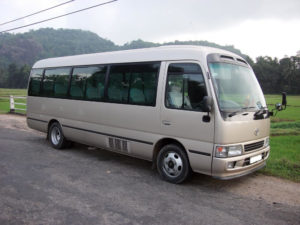 Coaster Bus – If you are travelling with a large group of up to 30 people for safari, business or party, then the coaster bus is the perfect vehicle. The mini-bus can accommodate between 28 to 30 people with FM transmission, TV set , freezer box, roof cargo decks and most importantly the wide room space making it the ideal car for group safaris including students, researchers, holiday makers plus families on vacation. A Coaster can be hired at US$ 140 to 180 per day with driver, excluding fuel.
Are you planning a group trip in Uganda this year and looking the ideal rental car to fit in your group or family, choose from the above listed cars and get back to us through info@ugandacarrentalservices.com or call us on +256-700135510 to book or inquire today. We will be more than delighted to offer you our services at pocket friendly rates that suit your budget and personal needs.