Open your eyes to the possibilities and see how far you can go. You will discover that Uganda is a place where holiday experiences will enchant, inspire, educate, surprise and delight you. Stretch your legs in our wide open spaces and unforgettable landscapes. Go further to stretch your mind as you explore our cities, cultures, cuisines, wildlife safaris and art. You will return home infinitely richer in adventure, memorable experiences and whole life time adventure. People come from around the whole world to enjoy adventurous trips and activities mostly keeping your adrenaline high especially in Jinja the Adventure capital of the world. Below are some of the main adventurous activities in Uganda;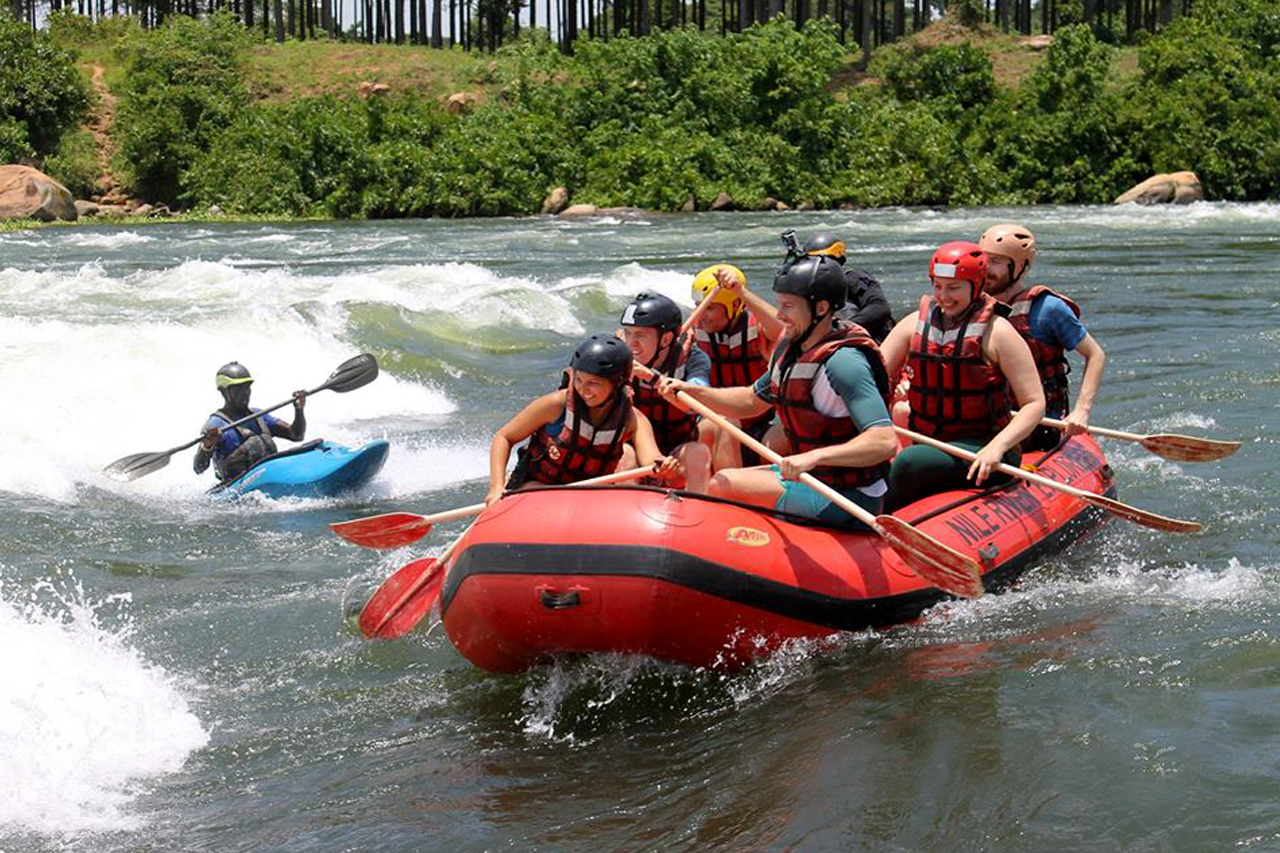 1: Zip lining
Enjoy a moment in the rain forest of Mabira as you fly on an adrenaline-charged high wire. Do note that no experience is required for this adventure, all you need to do is getting ready for the fun and you will be flying in no time. The sport is extremely secure; you don't have to worry about dangers while on your trip, the ropes strong enough to handle any weight. This is one top activity you can enjoy with your family and no is left behind.
2: Bungee Jumping
Jinja is the heart of adventure in East Africa, and bungee jumping is one of the most thrilling sport activities of all times. Get connected to an elastic cord and jump off a high structure, you can choose to fall off with your partner or choose to jump off just yourself. This is something you can do once but have lifetime memories, fly freely like a bird in the air and scream your lungs out.
3: Rafting
Escape to Eastern Uganda for an epic white water rafting on the White Nile the longest River in the whole world. Jinja features or 5 perfect rapids to the toughest rapid of all times. Hold yourself tight, you are about to meet the most interesting and strongest wave of all times. You will only enjoy rafting in Uganda at Jinja.
4: Biking
Explore wild landscapes of Uganda during your biking adventure. Meet a challenge on high hills and steep slopes down the valleys; this is what we call a thrilling adventure of the day. Many bikers have not met rough roads before but here, we call it the real adventure, therefore make sure your bike is in good condition so that you do not miss the fun. Many bikers enjoy biking trips to Jinja, Kabale, Kisoro and Masindi in Uganda.
5: Hiking
Enjoy dramatic landscapes and see amazing nature and wildlife as well during your hiking trip in Uganda. Uganda is blessed with a number of hills and gorgeous mountains spread in different parts of the country including Rwenzori Mountains, Mt. Elgon, Mt. Moroto, hiking points including Mgahinga and Bwindi National Parks. Some people opt to have hiking trips in Kabale since it is really hilly and Kisoro as well. Where your heart is at, enjoy nature while on ground and relax your mind with a few steps on the soils of Uganda.
To book any of the abive adventure activities in Uganda, simply send us an email at info@ugandacarrentalservices.com or call us directly at +256700135510