Are you looking at travelling to Uganda this season and basically need the best and convenient way to get around the country? Hiring a car is the best way to travel and explore the magnificent sights in Uganda, with locations right from Entebbe airport, the capital city Kampala to the furthest borders of Uganda ;Katuna to Rwanda, Malaba to Kenya, Mutukula to Tanzania and a lot more of adventure.
Whether you are going in for a scenic self drive through the stunning great lakes region, or discovering home cooked food and hand- made craft in a local village centers, or an adventurous wildlife safari, you can only make your travel comfortable with cheap car hire in Uganda enjoying favorable prices that will not stretch your wallet. Hiring a car with or without a driver in Uganda has steadily become an important branch in the areas of tourism with many tourist that visit Uganda choose to make out their own itineraries, preferring to hire a car with a driver or on a much cheaper option of self drive.
There are a number of rental cars in Uganda available to choose from, whether you need simple saloon cars, safari cars, luxury vehicles for your wedding event or parties, station wagons, truck, minivans, you just have inquire with the car rental company to offer you r car hire services at the cost that suits your budget as well personal needs.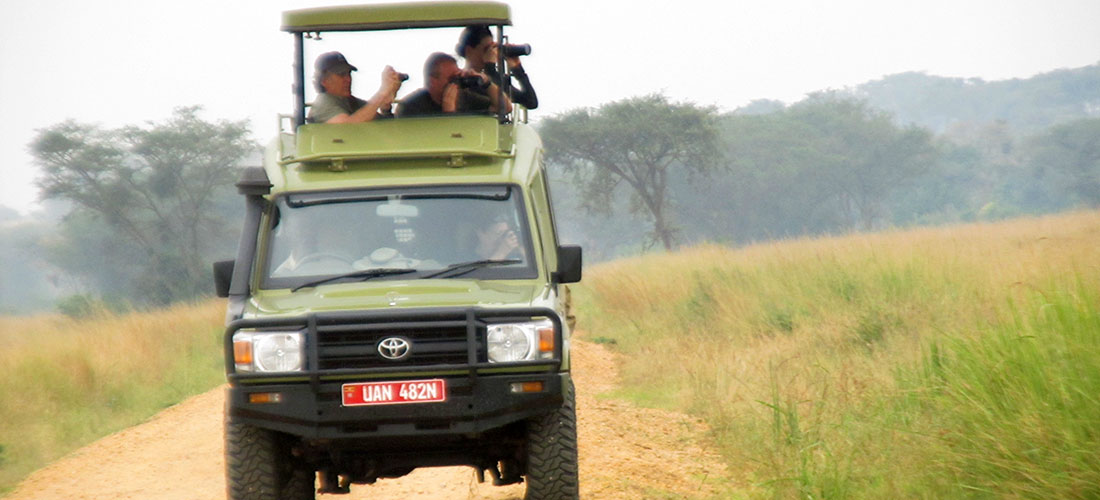 Rental Cars
The most perfect way to solve the problem of traveling around on a Uganda holiday is with car rental company. Uganda journeys can preferably be made easily and conveniently in your own hired car either on self driver or with a chauffeur than when you have to use public buses and taxis for your trip. It is very practical and comfortable when you are in control of where you want to go at that time that suits you best. The type of car that you want to hire will depend on the number of people you are traveling with also putting the destination in consideration as well. It could be a luxury limousine for a red carpet or wedding event or a safari land cruiser to handle the tough terrain of the wild places of Uganda whichever your option make sure it right for the purpose, this saves you an issues of breakdown or failure to function . Ideal cars for business trips, airport pickup, events, and wedding days are limousine, Mercedes Benz, jaguar, Chrysler and more. The Toyota land cruiser, Nissan Patrol, land Rover, and the Small size SUV Toyota Rav4 which also serves as safari car which seats up 5 people are so ideal for safari. For those wishing to travel in bigger groups of 10 and above, the mini vans and coaster buses are a perfect choice.
Self drive /chauffeur
Are you deciding whether to hire a car in Uganda on self drive or with professional driver? It is very important know what you need before renting a car in Uganda. If you think you may not do well in a foreign country, driving on the other side of the hand or through remote villages, choose a guided tour or hire a car with driver and drive in leisure. Self drive in on other hand cheaper and flexible, many tourists today prefer to do camping trips on self drive mainly SUVs are preferred for such rental. For self driver rentals, car provided are in good shape with spare tyre, car jerk, GPS and all necessary documents that will lead you through traffic hassle free. Many of the car hire companies offer cheap car hire in Uganda at unlimited mileage giving you a chance to explore the best of the Pearl of Africa and its neighbors at your convenience.
Car hire rates
Car rental rates in Uganda will vary and depend on the type of car you need and period of rental. Below are some of the proposed car rates for different cars available less fuel/gas.
Sedan and small SUVs Cars (Rav4, Premio, Raum, spacio, Corona) – US$ 40 to 50 per day – self drive & US$ 55 – 65 per day with driver
4X4 Station Wagons (Safari Land Cruiser, Nissan Patrol, Land Cruiser Prado)- US$ 70 to 90 per day self drive & US$ 90 to 120 per day with driver.
Medium Size Vehicles (Safari van , Super Custom, Noah, Coaster bus) – US$ 80 to 100 with driver
Trucks – US$ 100 to 120 per day with driver
Most of these rates are negotiable and preference also goes to return clients because you are assured of discounted prices. Please note that the higher the number of days for rental the cheaper the price and the lower the days the higher the price.
There are so many highlights about car hire in Uganda but above are some of the important aspects to note if you are planning on renting a car in Uganda at a cheap rate. for more information, send us an inquiry at info@ugandacarrentalservices.com or call directly at +256700135510, +256414699459