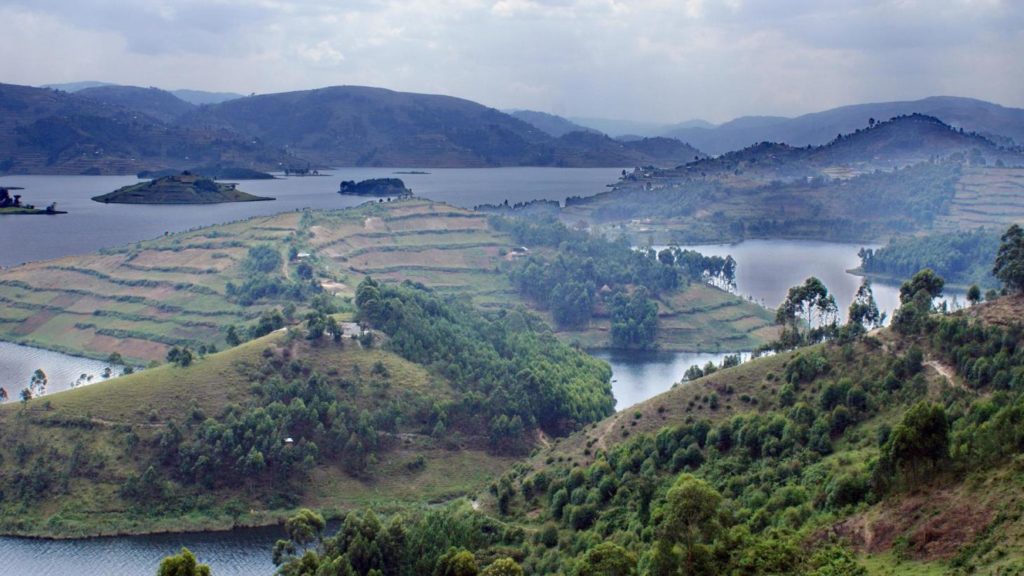 Lake Bunyonyi is one of your most beloved destination suitable for at least a night or two on its shores or on one of its islands. Due to the fact that it's the second deepest lake in Africa located in the south western Uganda near Rwanda border and this makes it a potential resting place after your gorilla trekking in nearby Bwindi Impenetrable forest as well as its closeness to Kibale national park makes it a good spot for accommodation after chimpanzee trekking. Lake Bunyonyi has a variety of birds over 200 species that involve herons, weaverbirds and grey crowned cranes.

The magical look at the Lake Bunyonyi mainly because of the 29 islands of various shapes and sizes scattered across the water have made Lake Bunyonyi one of the country's top natural treasures. The ever-changing climate at Lake Bunyonyi adds a glamorous look for the tourists as the islands weave through spongy like streams of mist in the early morning and the clear sky that portrays the all views of the islands in the afternoon and as the sun sets, the islands be covered in a warm glow of the sun . At times the islands are completely hidden under the cloud cover although it doesn't take long for them to emerge back , such a powerful experience lasts forever in your memories .
As you enjoy your visit at Lake Bunyonyi , you can stay at Arcadia lodge that is a cottage located on top of the hill which provides the best panorama view of lake Bunyonyi islands as many tourists meditate upon the view silently absorbing what is set before their eyes ; the natural splendor .

ACTIVITIES AT LAKE BUNYONYI

SWIMMING– Lake Bunyonyi s crystals of water are safe for swimming since they bilharzia free as compared to other lakes affected and also there's no presence of wildlife that might be dangerous to human life such as crocodiles , hippos and others . It's necessary to take caution of the depth of water for inexperienced swimmers.

CANOE RIDING– Many tourists sail around the waters and islands using the common mode of transport which are dug out of canoes that are peddled by a selected tour guide .so you can rent one for your exploration.

COMMUNITY WALK– One of the common excursions, tourists are availed to is a visit to the batwa tribe of pygmies who survive on the fee given to them by the tourists in order to perform songs and dance for them . You get a chance of experiencing the everyday life among playful children, farmers wand women dressed in well coloured kangas.
.
HIKING /NATURE WALKS– The best hiking trails on the islands are the terraces of kigezi highlands that reward you with panoramic views of the landscape .Wildlife, forest ,tree plantations can also be found on the islands as well as water animals are spotted in the water for example otters .

BIRD WATCHING– Lake Bunyonyi is home to over 200 species for example herons, weaver birds and grey crowned cranes. The abundant birdlife attracts so many tourists since birds have different characters and provide best scenery to keep at heart.
Planning to visit or already at Lake Bunyonyi and require a rental car for a private road trip, we at Uganda Car Rental services will be more than delighted to offer you car that suits your budget and personal needs. Whether you want to hire a saloon car, SUV, 4×4 safari car, van or bus, we can get it for you with a driver or for self-drive. To rent a car at Lake Bunyonyi today, simply send us an email to info@ugandacarrentalservices.com or call us now on +256-700135510.