Wake up to a morning mist over the calm waters and enjoy a cup of coffee while overlooking the breathtaking Lake Bunyonyi. Located in the region well known for the endangered mountain gorillas and a lovely terrain, Lake Bunyonyi lies within steep hillsides in southwestern Uganda. as the fog slowly disappears, you are able to catch the stunning views of the conical Virunga ranges at a distance. The magical lake was named Bunyonyi which is a local word translated as "Lake of many little birds".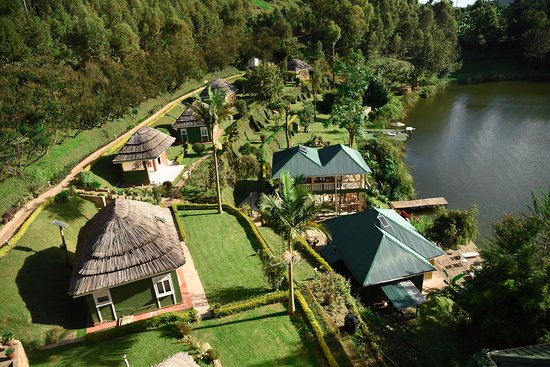 In this article, Mumwe Global safaris tells you every important information to know about the incredible Lake Bunyonyi.
The scenery of Lake Bunyonyi
The Lake is surrounded by green terraced hills raising to a height of 2,200-2,478m above the sea level. However, the 29 islands scattered across it remain the factor that make it a magical spot. Spend a day of scenic viewing at lake Bunyonyi to admire how the rays above the hill slowly changes its direction bringing the best sights to the viewers. On some mornings, the fog vanishes the islands and the hills from sight but it only takes less than two hours to start seeing them once again.
Activities to do at Lake Bunyonyi
Canoeing
A canoe ride is a remarkable tour on the placid waters of the magical Bunyonyi. It is one of the best ways to explore the lake and it offers a chance to visit some of the islands as well as get around to areas where you can get the best views of the Virunga ranges. Each island as a different history attached to it and your local guide on the canoe will narrate all of it.
Birding
As its name goes, Lake Bunyonyi is a birder's haven with numerous little birds. Birding tours are offered by Lake Bunyonyi Rock Resort around the shores of the lake, plus to the swampy and nearby forested areas. There are other local birders to take you around. The place is home to over 200 bird species including the grey crowned cranes, grey shrike, bronzy sunbird, golden-backed weaver, bee eaters, slender-billed baglafecht, levillant cuckoo, malachite kingfisher and fan-taled widow bird among others.
Hiking
As earlier said, Lake Bunyonyi is surrounded by endless hills and hiking to their peaks is one other exciting experience you ought not to miss. The hikes reward with adventure and reaching wonderful view points of the lake and the rest of the surrounding.
Zip ling
Close to the village of Rutinda is a small island where zip lining takes place. It is incredible to swing on top of the second deepest lake on the African continent.
Swimming
As part of your relaxation time, you can include swimming on you plan. The beautiful lake is very safe for swimming because it is free from bilharzia and also does not have crocodiles and hippos.
When to visit Lake Bunyonyi
Unlike other destinations like nature reserves which have their best times to visit, Lake Bunyonyi is an all year-round destination. you are welcome to this stunning place at any time of the year for any of the above activities.
How to get to lake Bunyonyi
Situated about 466km from Kampala and in the southwestern part of Uganda, the lake can be accessed through the Kampala-Masaka-Mbarara-Kabale road.
Wildlife at Lake Bunyonyi
Lake Bunyonyi is mostly known for birds. Besides that, it is home to aquatic life including cray fish and otters.
Note: Lake Bunyonyi is a perfect place for a stopover for tourists on a gorilla tour to Bwindi Impenetrable national park or Mgahinga Gorilla national park. You can as well visit it after a gorilla tour in Rwanda's Volcanoes national park. It is a great destination to chill after the strenuous hiking in the gorilla parks.
Feel free to request for an addition of Lake Bunyonyi to your package when booking with us. Get in touch with our travel consultants through info@ugandacarrentalservices.com or call us now +256-700135510 to speak with the reservations team.