Not many experiences of travel are as imposing as watching the giant mountain gorillas in the middle of the silent tropical African jungle. Living between Rwanda, the Democratic Republic of Congo and Uganda, this specie of the eastern gorillas known as Gorilla Beringei is one of the most interesting apes to see on the planet. However, they are also one of the world's most endangered primates as they are estimated to be approximately 1,063 individuals remaining.
Uganda is home to the largest population of mountain gorillas- almost half of the total number of these endangered apes. Our gorilla safaris to Uganda's gorilla destinations take you trekking and offer a remarkable one hour with a habituated group of gorillas in the tropical forests. Uganda Wildlife Authority goes ahead to offer an opportunity to those interested in spending more time with the captivating giants. In this article, Mumwe Global Safaris presents an important guide about the things you need to know about the gorilla habituation experience in Uganda.
Where to find gorillas in Uganda
Bwindi Impenetrable Forest National Park and Mgahinga Gorilla National Park located in southwestern Uganda are the lovely natural habitats of the most sought out primates- the mountain gorillas. Bwindi is a more popular destination for these fascinating attractions because it has a bigger population: almost half of the world's total population. Mgahinga Gorilla national park has one habituated gorilla family while Bwindi has more than 15 gorilla families which can be encountered by trekking. Uganda Wildlife Authority offers gorilla habituation experiences in Bwindi impenetrable forest national park.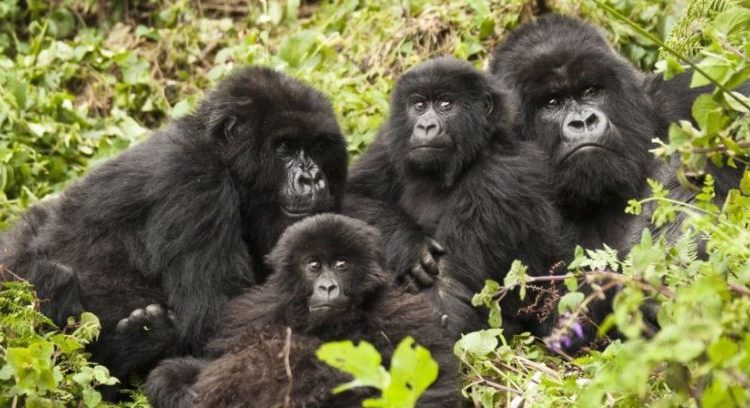 What is the difference between gorilla trekking and gorilla habituation experience?
Gorilla trekking and the gorilla habituation experiences are both enjoyable adventures that take trackers up close to the gorillas. During gorilla trekking, trekkers hit the forest with a ranger in search of the allocated gorilla family. The activity can last for 2 or more hours depending on the location of the gorillas. Once they are spotted, visitors are allowed to stay with them for a maximum of one hour for observation and photography.
Meanwhile, Gorilla habituation experience was introduced to offer an opportunity to those who wish to spend more time with the gorillas. The adventure involves moving with a team that comprises of researchers and rangers who visit an identified wild gorilla family to train it and familiarize it with the presence of people. The habituation experience allows you to stay with the gorillas for about 4 hours. It is more insightful regarding the behaviors of gorillas as well as the process they go through to get used to people.
Where to do Gorilla habituation experience in Uganda
Gorilla habituation lasts for 2-3 years or more for the primates to be ready for trekking. This is done in Rushaga sector in the southern part of Bwindi Impenetrable Forest national park. The three other sectors of the park-Buhoma, Nkuringo and Ruhija are great destinations for gorilla trekking. Taking part in gorilla habituation experience and gorilla trekking means that you are playing a great role in the conservation of the endangered primates.
Requirements for gorilla habituation experience in Uganda
The major requirement that allows you go for the habituation experience is the Gorilla habituation experience permit. It is issued by Uganda Wildlife Authority at US$ 15,000 for foreign non residents, US$1000 for foreign residents and UGX 750000 for East African citizens.
Unlike gorilla trekking where 8 gorilla permits are available for each gorilla family daily, only 4 permits are issued for 4 clients to visit one semi habituated gorilla family each day. prior booking is recommended at least six months before the trip more so if you are planning to visit during the peak seasons (July-October and December-March).
To participate in the gorilla habituation experience, one must be at least 15 years old.
What to pack for your gorilla habituation experience safari
During the adventure, you join the researchers and move around the tropical Bwindi forest which is on a hilly terrain and rain is expected in the area at any time. Get ready for the tour by making sure you have the following important items packed;
Waterproof hiking boots
Light weight rain jacket
Long trousers
Long sleeved shirts
Gardening gloves and woolen socks
Wide brimmed hat and sun glasses
A small back pack
A reusable water bottle
Insect repellant and other toiletries
Camera and binoculars
Energy giving snacks
Warm clothes for chilly mornings and cold evenings and nights
Our years of experience in arranging gorilla safaris has made us a trusted and credible tour operator in Uganda. Whether you want to do gorilla trekking in Bwindi forest, Mgahinga or Rwanda's volcanoes, we are more than ready to help you create an itinerary based on your budget & personal interests. Planning for a gorilla habituation experience safari this season? Get in touch with us today through info@ugandasafaribookings.com or call our travel consultants on +256-700135510 / +256 414-699459.