The Toyota RAV4 is one of the most popularly booked cars for self drive trips in Uganda. The 4×4 Recreational Active Vehicle is a compact crossover SUV built for both city roads as well as off-the-beaten tracks. A Uganda self drive trip is an adventure like no other and if you want to get where you are going safely and comfortably, then you will need to choose a 4×4 car that can traverse the rough terrain, steep and muddy slopes as well as ever-changing weather conditions.
There are numerous 4×4 cars for hire in Uganda available with the most popular ones being the safari land cruiser, tourist van & Land cruiser Prado but if you want a money-saving road trip, here are some reasons why we recommend you hire a Rav4 in Uganda for your next self drive adventure.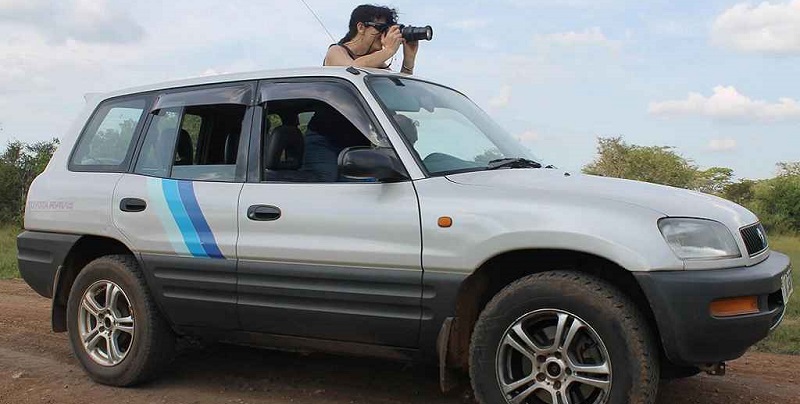 1- Cheap – The number one reason why we recommend a Rav4 over other 4×4 cars is because of its rental affordability. You can get a Rav4 in Uganda at a price as low as US$ 40 per day or even less if it's a long-term car rental. The price covers government tax, insurance as well as 24-hour road assistance.
2- Spacious – Another eason why you should consider hiring a Rav4 in Uganda is because it offers adequate space for cargo in the rear as well as enough legroom and headspace for total comfort of the passengers. The trunk of a Rav4 can accommodate camping gear as well as personal cargo hence you wont have to worry about getting squeezed when you travel in a RAV4
3- Fuel Efficient – If you want to cut fuel costs when on self drive in Uganda, we highly suggest you rent a Rav4 given the fact that it uses fuel between 7 to 8 liters per 100km making it the best economy 4×4 car for hire in Uganda. The price of Petrol in Uganda is at UGX 5800 per liter in 2022 but as things stabilize the price will drop back to 4000 UGX.
4- Multi-Purpose Vehicle – The Rav4 is one of the best and first crossover SUVs in the world meaning it can operate on gravel city roads as well as off-road tracks in remote destinations. The Rav4 can be hired ofr city tour, business trip, park safari, project transportation as well as special occasions like weddings.
Are you planning to self drive Uganda this season and still searching for the ideal 4×4 car? Look no further than the Rav4 given the above reasons. We at Uganda Car Rental Services offer both 3-door & 5-door versions to all types of travelers including couples & solo travelers. You can rent a Rav4 in Uganda for self drive trip by simply sending us an email to info@ugandacarrentalservices.com or call us now on +256-700135510 to speak with our reservations team.
Bryan Muhoozi