Kampala city is capital and busiest city in Uganda mainly used by travelers as a base of exploration before heading out to the parks and remote attractions. The city is blessed with a wealth of popular and unknown attractions but what makes a Kampala city tour worthwhile is visiting unique cultural and historic sites . There is no better way to learn about Uganda's rich cultural heritage than by driving to these places and finding out yourself.
Uganda Car Rental Services specializes in organizing guided and self drive tours around Kampala city and we present to you some of the top places you can t miss out on when in the city
Kasubi Tombs
This is a cultural site that is situated about 5 kilometers from Kampala. It is a burial ground where the Buganda king(Kabaka) plus other members of the royal family are buried. Kasubi tombs is the largest tombs in Africa and apparently, there are about four Buganda kings that have been buried here. The tombs feature a mesmerizing scrupulous architecture, royal regalia that impress a lot of tourists who visit the places.
The Uganda National Museum
The Uganda National Museum is located about 3 kilometers in the heart of Kampala city along Kira Road. The museum is ranked as the oldest in East Africa and it was established in 1908 with a diverse range of objects fetched from the distinctive traditional chiefs in Uganda. It features numerous natural historical samples, archeological artifacts, traditional and colonial musical instruments.
Uganda Martyrs shrine Namugongo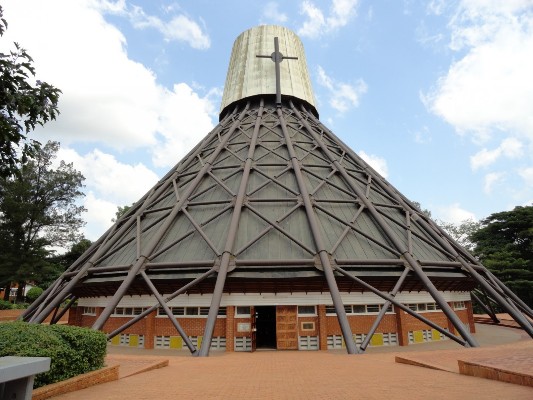 This is a religious site where about 32 young Christians were killed under the order to King(Kabaka) Mwanga II, because they refused to denounce Christianity, these were both Anglicans and Catholics. It is located along Jinja – Kampala highway and it is one of the most significant shrine to most Christians in Africa. Every 3rd June, the Uganda martyrs are celebrated. It is become of an astounding tourist attraction that you need to explore while on a tour to Kampala city.
Bahai Temple
It is important to note that Bahai temple is the only house for the Bahai faith within Africa. It is located about 7 kilometers from the center of Kampala on Kikaya Hill along the Gayaza road. The temple features a serene quiet environment that impresses a lot of visitors that come to explore the place as well as attract many people that come for prayers and personal devotion.
Makerere University
This is the largest and oldest university in Uganda. In 9922 the institution was established as the first technical school and in 1963 it was declared the university of East Africa that offered courses that lead to a degree. Makerere university features a wide range of interest attributes that will impress you upon visiting the institution.
Lubiri Palace
This is known as the Royal compound for the king(Kabaka) of Buganda kingdom. Lubiri or Mengo palace is the official residence of Buganda. It was established in 1885 by Kabaka Mwanga Danieri II. It covers an area of about 4 square miles in size. Kabaka's place is one of the amazing places in Kampala that everyone would love to visit on Kampala city Tour.
In case you are looking for a private transportation to take you around Kampala city. Getting around the capital on your own can be difficult, therefore you need to hire a car and driver in Kampala city to offer you an exceptional city tour experience. Don't hesitate to contact our professional reservation team by sending an email at info@ugandacarrentalservices.com or call us on +256-700135510 / +256 414-699459 for more information and inquiries.