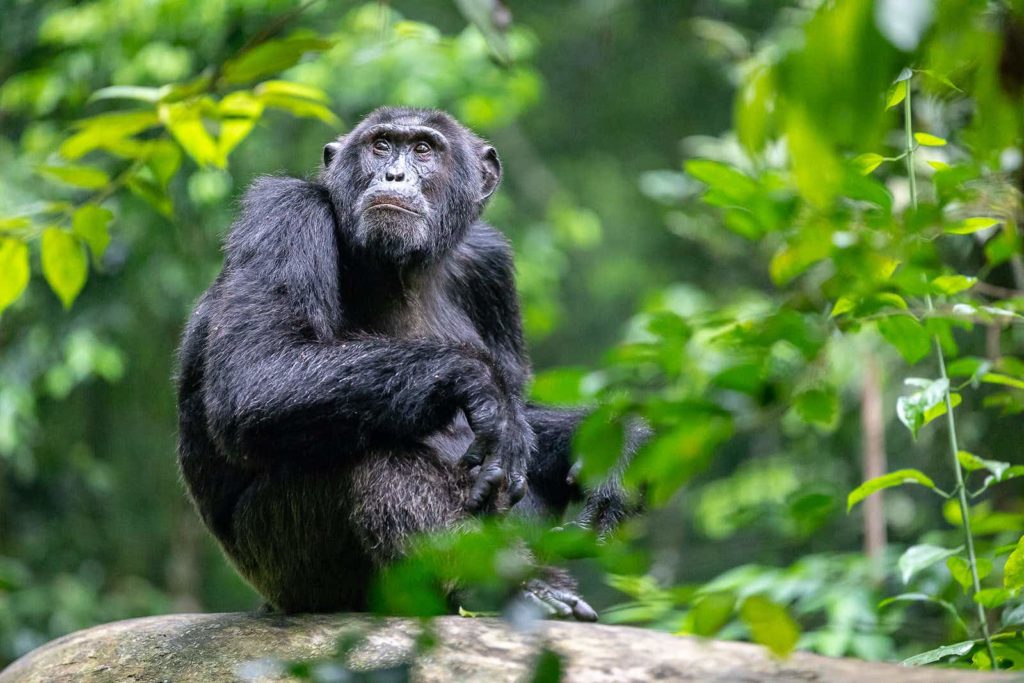 Have the ultimate experience in the rain-forests of Uganda as you trek the mountain gorillas in Bwindi forest and the chimpanzees of Kibale forest. This is the best tour for those that are intrested in primates , nature and hiking. Trip ends with visit to Lake Bunyonyi for relaxation, canoe ride and birding.
Day 1: Transfer to Kibale Forest National Park
Welcome to Uganda the Pearl of Africa, after breakfast, transfer to Kibale forest National Park with your driver/guide through Mubende town where you will make a stopover for a warm lunch and then proceed to the park, enjoy great sightseeing on your way with cultivated plantations, herds of cattle and various birds. Check in at your lodge for your night stay.
Day 2: Chimpanzee tracking
Wakeup to a hearty breakfast and proceed to the park headquarters for briefing about the tracking conduct. Follow the park rangers in the forest to see your hosts, chimpanzees are quite shy, therefore you need to steady to see them before they hide in the tree canopies. Enjoy an hour with the chimps in their territory. Return to your lodge to freshen up and prepare to visit the Bigodi wetland or the crater lakes of kibale. Have a night at your preferred lodge
Day 3: Transfer to Bwindi National Park
Depart Kibale Forest National Park for Bwindi forest Park. Enjoy the drive via the crater lakes for the moment of photography and more wildlife. Enjoy an enroute meal and proceed to the park. Check in at your preferred
Day 4: Gorilla tracking
You will have a briefing session about the tracking code of conduct at the park headquarters after your breakfast and thereafter catch-up with the tracking experience of the gorillas in their natural habitat.  You will be rewarded with views of the forest habitants surrounding for example the Black Bee Eaters and the Blue Breasted Kingfisher, Black and African Black Emerald Cuckoos, Speckled Tinker bird, green Hylia, White-spotted Fluftail ,  and lots of others. Enjoy your night in Bwindi National park in your preferred lodge
Day 5: Transfer to Lake Bunyonyi
This is your final morning at Bwindi forest Park; I hope you had a great time. Have breakfast and check out of the lodge. This is approximately 2hrs drive from Bwindi. The drive awards you with great views of the rolling hills of Kabale. Spend a night at your preferred lodge on the Islands.
Day 6: Reserved for Departure
To inquire or book the Uganda primate safari package, You can send us an email to info@ugandacarrentalservices.com or call us on +256-700135510/ +256-414699459 to speak with the reservations team.We look forward to hearing from you.