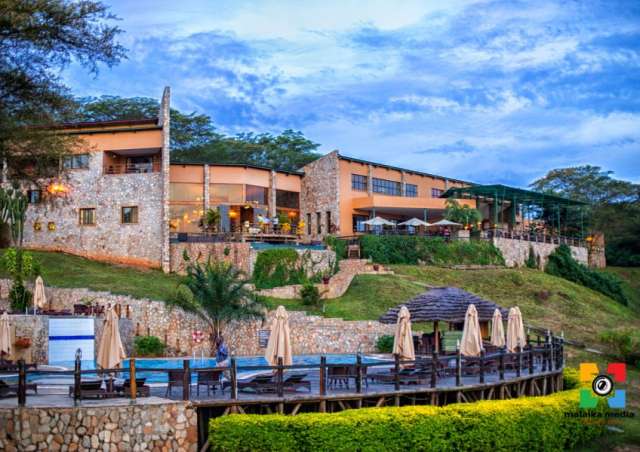 Chobe safari lodge is luxury five star safari lodge situated on the Victoria banks on the northern section of the might Murchison falls national park. The lodge is crowned a jewel and the best safari lodge that almost every traveler would love to experience while on a Safari to Murchison. There are about 40 standard rooms, 4 suits, 21 luxury tents, Florence Family house plus a presidential suite. The lodge is blessed with a charming environment, a spacious parking space as well an airstrip.
It is important to note that besides other fascinating facilities, Chobe safari lodge is popularly known for its serene swimming pool that gives you a magic experience with your loved ones. All accommodation rooms do have spectacular views of the Nile River including the luxury tents and with the sounds of the Nile rapids flowing gives you an exceptional feel of the true African wilderness. The place is a perfect place for travelers with families; hence you encounter a wide range of kid's friendly activities plus accommodation that favors children.
You get impressed with the architecture buildings where all standard rooms have balconies that are well furnished and designed with African crafted furniture plus a set of two sofa chairs plus a table, just too give you an opportunity to enjoy cool evening as you relax, sip your favorite cocktail, coffee or house wine.
The luxury , standard and deluxe tents have been strategically located with an aim to offer guests a true jungle safari experience on Uganda safaris. These are found in the extreme edges of the lodge close to river Nile shores and have a quiet surrounding atmosphere that is perfect ideal for chilling or relaxing. Rooms comprise of comfortable beds, en suit bathrooms with free toiletries, gorgeous interior décor among other interesting features.
Although some rooms have been distanced from main building, there is always golf carts available to take you the tent, these do pick in the morning for breakfast. The lodge has a 24 hour front desk and room service is also available whenever you need it.
Housekeeping is very active, making sure that your rooms are cleaned every morning, dusting the furniture, spraying the rooms during the turn down service thus they are always concerned about your healthy.
Chobe safari lodge features an onsite dinning place known as Karuma restaurant; this serves both local and international cuisines, on some special days, enjoy the three main course buffet for lunch, poolside BBQs and A'la carte menu where you can order any special meals. There are two a well stocked bars, at the swimming pool and at the lounge with a variety of both alcoholic and non alcoholic beverages, feel free to order your favorite cocktails or drink.
Staying at Chobe Safari lodge gives you a chance to sight impressive numbers of Wildlife in Murchison falls national park such as; baboons, elephants, buffaloes, giraffes plus many hippos on the shores of the Victoria Nile .
Planning to visit Murchison falls national park this season and you would like to book accommodation at Chobe safari lodge, don't hesitate to write to us for more information, simply send us an inquiry on info@ugandacarrentalservices.com or call us now on +256-700135510 to speak with our team