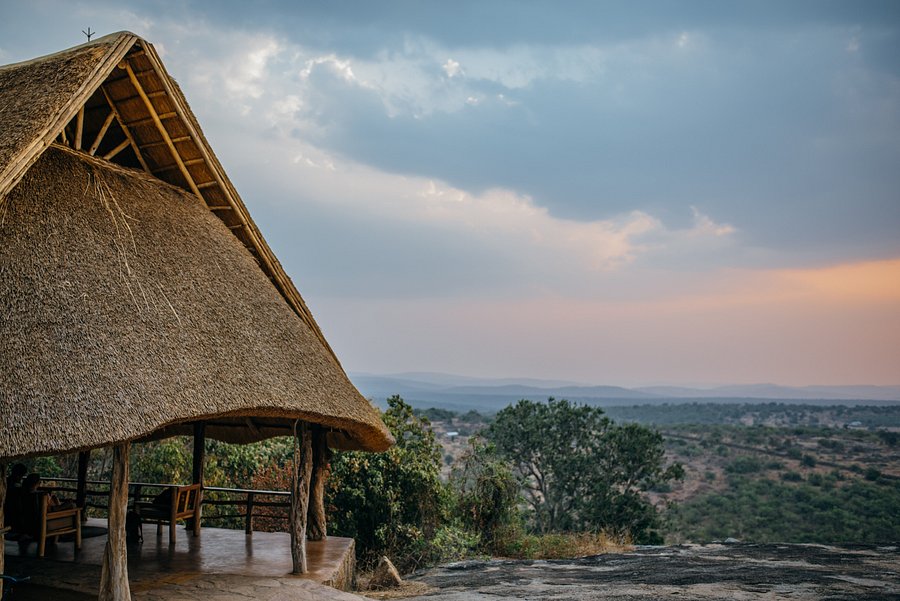 Rwakobo Rock is a great mid range accommodation situated on the corner of Lake Mburo national park – one of the most beautiful savannah safari parks in Uganda. The safari lodge is close to the Nshara gate and it is about 500 meters away from Akageti trading centre. While staying at Rwakobo rock grab a chance to delight in the magnificent scenic beauty of the massive granite rock. The accommodation is neighbored by the Banyankole –Bahima tribe of people who are famously known for keeping long horned breed of cattle. Initially before the park was gazetted, the Banyankole used to graze their cattle from here though later they were evicted out of the protected area.
Rwakobo rock lodge offers spacious cottage accommodation and this is about 8 cottages plus the five self contained rooms. The lodge reflects an African traditional style due to the fact it was constructed using local materials, therefore expect to encounter grass thatched roofed houses. All rooms are equipped with a private balcony, an ensuite bathroom, hot and cold showers, free basic toiletries, a flushing toilet, fire places and they are overlooking the mesmerizing beauty of the park.
The lodge comprises of a serene restaurant which serves delicious local and international meals that suits all your favorite choices, there is a wonderful swimming pool, daily laundry services, free parking space, WiFi Internet, solar power, room service is fully available plus a 24 hour front desk with welcoming and smiling staff ready to offer you an excellent service.
Rwakobo rock lodge is an affordable accommodation that we recommend one to stay on a safari to Lake Mburo national park. During your stay, take a chance to enjoy activities like sport fishing, game drives, boat cruise, birding, horse riding among others. For more information on how to book accommodation at Rwakobo Rock Lodge, contact us here at Uganda car rental to speak to our travel experts team, simply send us an email on info@ugandacarrentalservices.com or call us now on +256-700135510 to speak directly to our custom care personnel.