If you have watched wildlife documentaries and seen how the lioness camouflages in the thickets and runs after the antelope to get a meal for her cubs and you are imagining how this would feel like to travel to Africa and be at the scene. Uganda is one of the most gifted African countries with such safari animals to see that will give unforgettable experiences. If you are wondering what safari animals you will encounter during the tour!! In this article, we bring you the 15 most iconic safari animals expected to be spotted while exploring Uganda.
Lion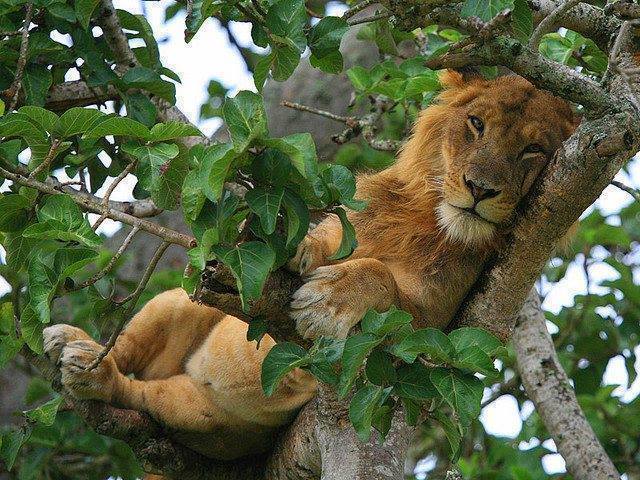 The King of the jungle is one of the top animals on most travelers' wish list. Watching this big carnivore in its natural habit is a huge thrill that a Uganda safari offers. Lions live in prides of about 10 members. They are active at dusk and dawn and mostly relaxing the rest of the time of the day. National parks to see lions in Uganda include Queen Elizabeth national park, Murchison falls national park and Kidepo Valley national park. More to this, Uganda is one of the only two countries in Africa with a population of tree climbing lions seen in Queen Elizabeth national park.  
Mountain gorilla
To stay with a mountain gorilla for an hour is an adventurer's big dream come true. That time spent with the apes is much more captivating than any other moment around the forest; trekking through the dense forest. Book for a gorilla safari to Bwindi Impenetrable National Park or Mgahiga Gorilla National Park, and get a chance to learn more about how these giant apes live and spend the day.
African elephant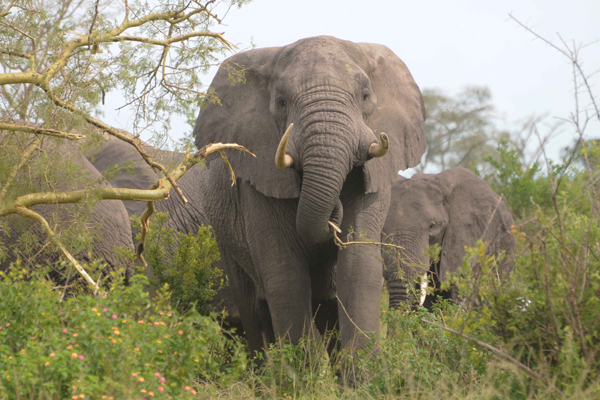 No matter how many times you have come across an African elephant, every time you spot it again seems like it is the very first sight because of its overwhelming size. This is the biggest terrestrial animal on the planet and watching it up close is impressive. Elephants live in a variety of sub-saharan habitats; savannah, forests and deserts. They spend most of the day active and an adult elephant eats 300-600 pounds of food a day. Being herbivores, they feed on leaves, roots, twigs, fruit, flowers and bark.
The best place to see elephants in Uganda is Queen Elizabeth national park which records the highest population. Other parks that harbor elephants are Murchison falls national park, Kidepo valley national park and Kibale forest national park though rarely spotted.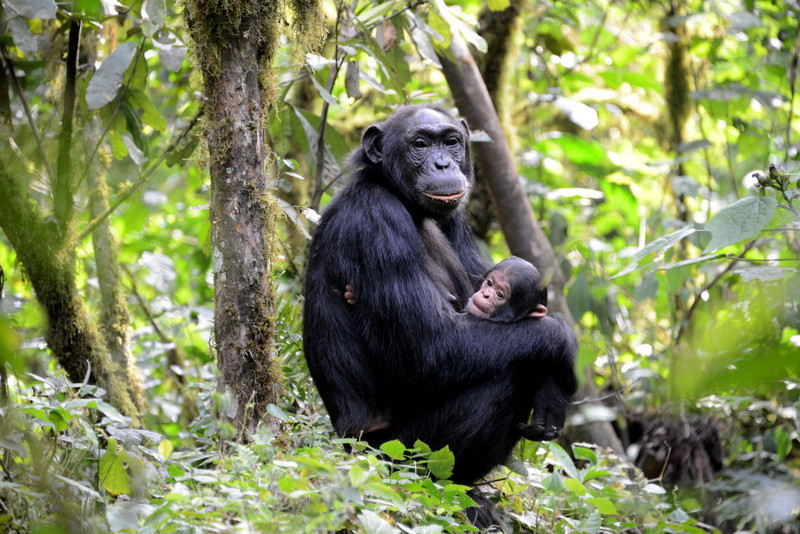 Chimpanzees
There is nothing cuter than spotting our closest cousins in their natural habitat. Watching them going about their day is so enjoyable. Seeing how lively, playful and intelligent while in their presence is so incredible. The ranger guide elaborates a number of features that are so alike between man and the chimps. This makes such a memorable experience in Kibale national park. And other destinations in Uganda where you can do chimpanzee tracking include Budongo forest, Kalinzu forest reserve and Kyambura gorge.
Leopard
One would be right to say that leopards are the most beautiful species of the cat family; with their pretty rosette spots. However, leopards are one of the most difficult-to-see safari animals. They are solitary and therefore commonly spotted as singles. Unlike lions, leopards are shy. Leopards are nocturnal and chances of spotting them higher during a night game drive in national parks like Queen Elizabeth national park and Semuliki national park. They are also sighted in Murchison falls national park.
Golden monkey
Golden monkeys are other highly sought after animals by primate lovers. Just like the mountain gorillas, golden monkeys are endangered. These beautiful creatures are playful and always jumping from one branch to another in the bamboo forest. Golden monkeys can be tracked in Mgahinga gorilla national park.
Shoebill stork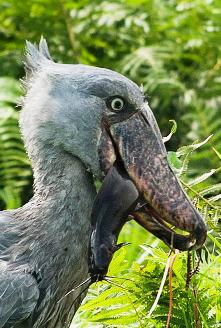 The elusive shoebill stork is one of the rarest birds to spot and if you happen to sight it while on a safari in Africa, then consider yourself lucky. Uganda is one of the few countries where you have a chance to see them. It records about 1,000 shoebill storks. This bird gets its name from the massive shoe-shaped bill.   The best place to see the shoebill stork in Uganda is Mabamba bay. You can also them at Murchison falls national park, Lugogo swamp in Ziwa, Queen Elizabeth national park and Lake Mburo national park.
Rothschild Giraffe
The giraffe is the tallest animal on earth; they boast an outrageously long neck. Their brown and white markings favor them to camouflage in the golden savannahs of Murchison falls national park. One would say that giraffes are the calmest wildlife as they have a gentle ant and cool look on their face. Giraffes can also be seen in Lake Mburo national park and Pian Upe game reserve where they were recently introduced.
Rhino
Abbreviated as rhino, the word rhinoceros is a Latin word that means nose horn and the animal was named so because of the feature at the front of its face. There are two types of rhinos- the white and black rhino which both are indigenous to Uganda but went extinct by the 80s. The southern white rhinos were later on re-introduced in the country and they can today be tracked and seen at Ziwa rhino sanctuary in Nakasongola.
Cheetah
A visit to Kidepo valley national park offers the breathtaking opportunity to spot the cheetah. This is the only park with cheetah in Uganda. This cat is known for its incredible speed of 80-130km/h making them the fastest land mammal in the world. They are also exceptionally beautiful as well as the most slender among the big cats of Africa.       
Cape buffalo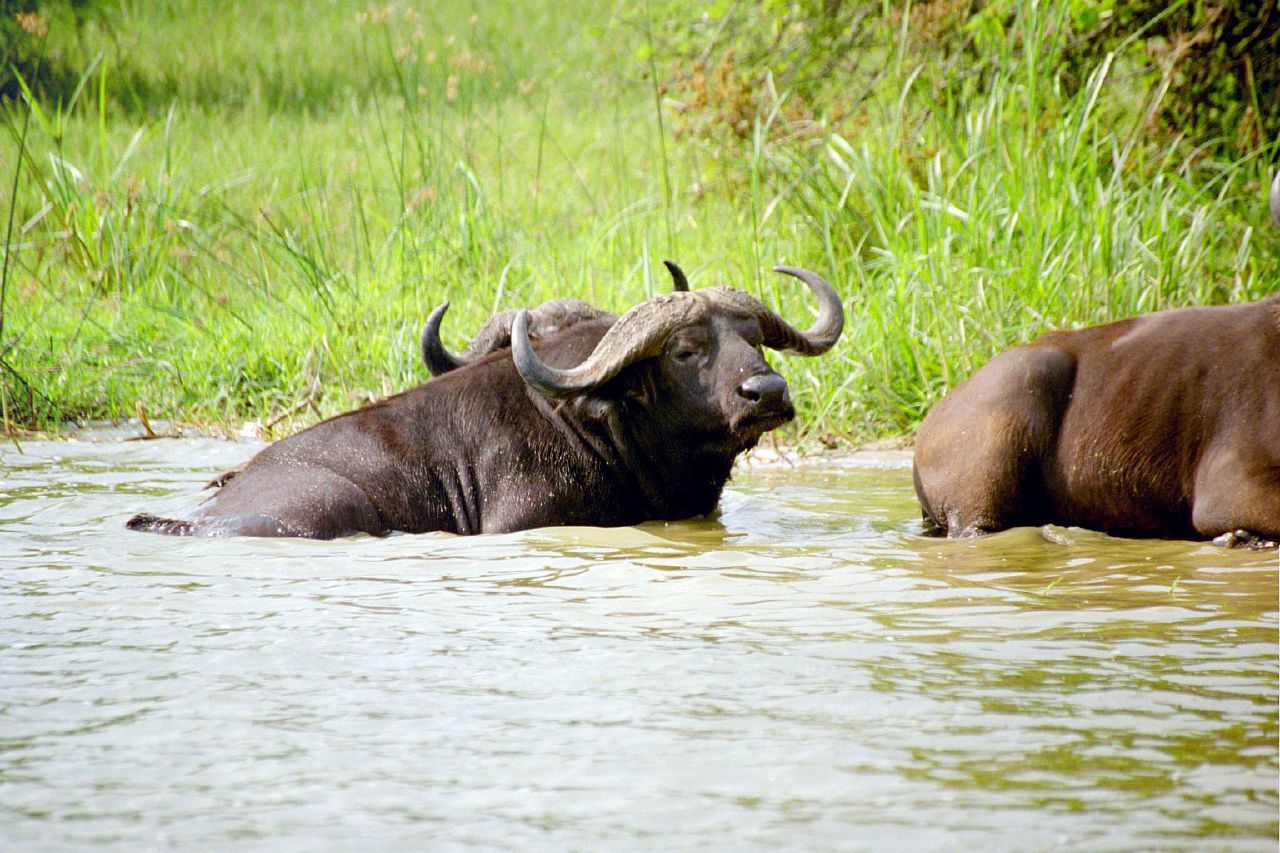 The Cape buffalo is one of the most common safari animals in Uganda and one of the Big five animals. Its big population might make it less exciting, but learning about its facts including its enormous strength and horrible temper makes it an amazing creature. That's why buffaloes are said to be the most dangerous animals in the wilderness. Cape buffaloes are commonly seen in large herds in Queen Elizabeth national park, Murchison Falls national park, Kidepo valley national park and Lake Mburo national park.
Grey crowned crane
One of the most treasured birds in Uganda is the grey crowned crane and appears on the Uganda coat of arms. It is Uganda's national bird. The exceptionally beautiful bird has an eye-catching golden crest and a bright red wattle. Commonly known as crested crane, these birds inhabit dry and open areas. They can be seen in open savannah plains of Murchison falls national park and many other such areas in Uganda.
Zebras
Spotting zebras might not seem as exciting as a leopard or lion, but these are the most photogenic animals of Uganda. They live in savannah plains. The best place to see them is Lake Mburo National park while they can also be seen in Kidepo valley national park.
Hippos
Although hippos are a common sight on African safaris, it is incredible how these are spotted in large numbers in Uganda. They live in lakes, rivers, swamps and temporary pools of water. These large mammals spend most of their day time in water and go feeding at night.
The best places to see hippos in Uganda include Kazinga channel in Queen Elizabeth national park, the Victoria Nile in Murchison falls national park, Lake Edward and Lake George.
Spotted Hyena
As you look out for cats like the lion and leopard on a Uganda safari, the spotted hyena will unexpectedly show up and you will know that one of the cats could have been in the same place earlier feasting on a catch. Hyenas are fond of eating remains of the lion and leopard though they sometimes hunt for their own food. In Uganda, hyenas are commonly sighted in Queen Elizabeth national park. Other places to see these carnivores are Lake Mburo and Kidepo valley national park.
With this list of the most amazing safari animals of Uganda, you have a great start for something to add to your bucket list. It is important to note that there are many other interesting animals that you can spot while on your Uganda safari. To see these animals and more in Uganda, contact us through info@mumwesafarisuganda.com or call our travel experts on +256-700135510/ +256-414699459.