Cycling trips is also known as Bicycle safaris and it is one of the unique amazing way to experience Lake Mburo national park as you explore the park's stunning wildlife plus the eye-catching landscapes. Bicycle safaris in Lake Mburo National Park takes about 1 hour and it gets you close to intriguing unique wildlife like the Rothchild giraffes, Burchell's Zebras, Elands antelopes, Impala antelopes, bushbucks among others.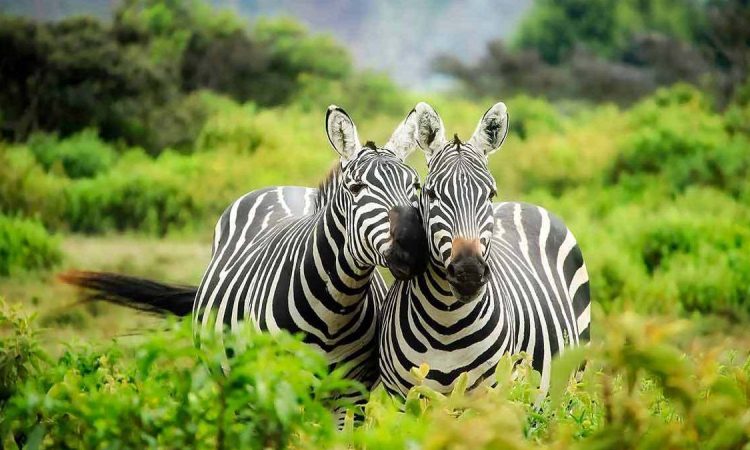 Is it safe to enjoy a bicycle safari in Lake Mburo
Cycling in lake Mburo is a truly wild experience where cyclists are given chance to ride through the safe routes in the park. In fact this activity is possible and favorable in the entire park because lake Mburo national park has few threatening wildlife that can easily kill the cyclists, most animals you encounter on a bicycle safari are calm, gentle and fascinating unless you try to temper with their peace that is when some can act aggressive especially the buffaloes.
You don't need to worry about your safety while cycling, all cyclists delight in this amazing activity with the guidance of a well trained and armed ranger guide whose role is to ensure that all cyclists are safe through the end of the bicycle safari, therefore there is nothing that stops you from enjoying an awesome experience on a bicycle as you get around Lake Mburo National Park.
Prior to this, the management team in the park has clearly established cycling routes that take you through the plain Savannah grasslands, forested hills plus swampy valleys. On this note cycling in this park is arranged depending on the cyclists preference, many adventurous travelers love to take their bicycle safaris in the hilly routes and forested hills whilst others do want to experience the flat routes in the plain Savannah grassland and swampy valleys.
What to expect on cycling tour
All the cycling tours are conducted by Uganda Wildlife Authority ranger guides, these have the knowledge on specific areas to ride through and they do guarantee you the best wildlife encounter.
Expect to get challenged with the nature of the park terrain while cycling, since some areas are sloppy and others hilly which makes the cycling tours strenuous but assures you a breathtaking experience as you venture through the bike trails.
Expect unbeatable experience that combines both body exercising as well as game viewing on your cycling safaris in Lake Mburo national park. The management team features about 15 mountain bikes for rent, though alternatively if you don't mind you can carry your own bike which helps you to save some dollars you would have used to hire one on your cycling tour.
On your bicycle safaris, don't get surprised incase you end up venturing most of the thrilling birding spots in the park like the viewing platforms close the salt licks, Swampy Valleys(Warukiri and Miriti), forest trails, along the roadside within the jetty and Rwonyo camp.  Some of the bird species to see include;  common scrimitar bill, red-headed lovebird, Emerald-spotted wood-dove, Coqui Francolin, black-bellied bustard, Rufous-bellied among others.
What to pack for your cycling tour in Lake Mburo national park.
As you get set for your cycling tour in the park, don't forget to carry the following cycling gears like;
Light clothing
Enough drinking water or coffee in a small Flask
Carry an helmet however the hired bikes in the park do come with helmets but you can pack one just in case
Insect Repellent
Camera for Photography to take in your home gallery
Binoculars incase you want to view something fascinating
Irrespective of the size of Lake Mburo national park, there is a lot you can enjoy when you take a tour to Lake Mburo and cycling is one of them to supplement your wildlife tour in this park, other exciting activities to enjoy in this area include, game drives, birding safaris, horseback riding tours and boat cruise among others.
In case you are planning a Cycling safari in Lake Mburo national park, we hope the above information will be of help to assist you to delight in long-lasting memories. To book a bicycle safari in Uganda with us, please feel free to write to travel experts for an affordable quotation, simply send an email on info@mumwesafarisuganda.com or call us on  +256-700135510 / +256 414-699459 to speak with the reservations team.