Packing for any safari holiday is no easy task and even gets tougher if plan on camping at a park. Apart from basic must-pack items like safari clothes, cameras, binoculars, anti-malaria pills, jacket, boots among others, a camping adventure requires other items which yo can hire from a company or buy and pack along when yo board the flight.
We take great pride in offering camping rental services in Uganda for all types of travelers including backpackers, solo tourists, families and friends on vacation and below is a list of some of the must-pack camping equipment if you want a successful and memorable outdoor stay in any park within Uganda.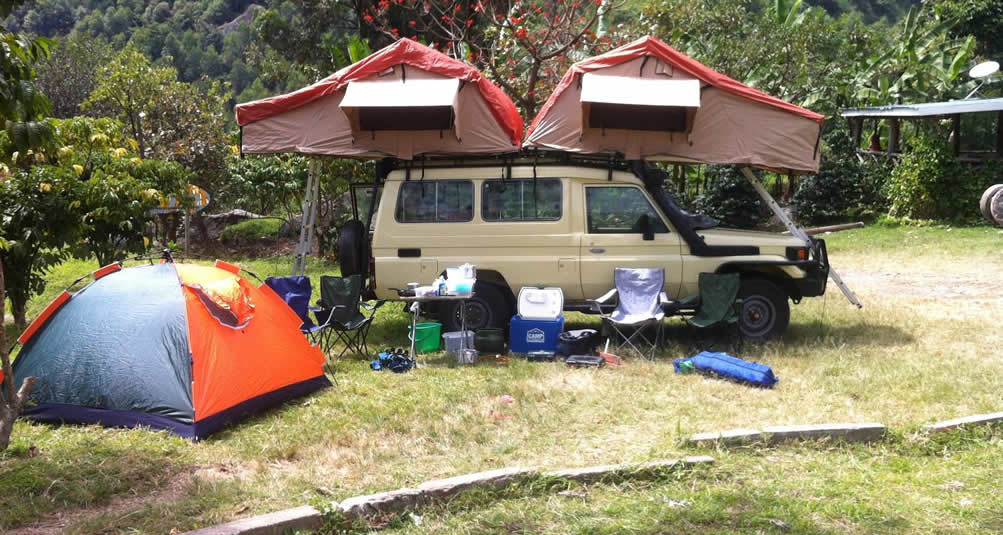 Camping Tent – A dome tent is the most popular type used for camping, it can accommodate between 2 to 5 people depending on the size. The tent comprises of a sheet of fabric or any other material that is attached to a set of 4 flexible poles with floor also covered.
Sleeper Bag – The cold winds that pass through the night will always require you sleep in something that can warm you up and the insulated sleeping bag is the perfect item for the job. This portable mattress has a zipper meaning you can just lock yourself in and wont feel even the slightest chill. Most Uganda camping gear companies don't have the sleeper bags so they offer out small mattress along with a blanket.
Lantern Lamp – It's always going to get dark in the woods and the best way to see you way around is by use of lantern lamp and torch to light the way. In addition to that, don't forget to pack a lighter or Match box as these come in handy when you want to start a camp fire and get storytelling plus ofcourse scare away any potential wild animal visitors.
Cooking Gas & Kitchen Utensils – These two go hand in hand , you have to eat hence you will need fire, food and cooking items like sauce pans, plastic plates, knives, cups, frying pan, spoons & forks among other useful utensils.
Tables & Chairs – You don't have to seat down in the grass if you don't want to plus you may need to do some writing or typing while on camping vacation, the flap-able chairs and tables will do the job. Get comfortable as you watch the sunset and take a beer with friends and family.
Right Car – Last but not least, you will have to book the ideal car for camping safari. A 4X4 car that can handle both passengers as well as the heavy camping cargo. Some of the most used camping cars in Uganda including the safari land cruiser, safari van, camper van and a Rav4 if you plan on traveling as a couple or alone.
Planning a camping safari in Uganda this season and would love to rent camping gear + car for the road trip, Let us at Uganda Car Rental Services help you out, we offer it to you at affordable rates that suit your personal needs as well as budget..Contact us now by sending an email to info@ugandacarrentalservices.com or call us now on +256-700135510 to speak with the reservations team.