The vibrant Uganda cuisine consists of traditional and modern cooking elegances, Practices, foods and dishes with a lot of English, Arab and Asian influence especially the Indian culture. Just like the cuisines of other or most countries, it varies in intricacy, from the most basic that is starchy filler with accompanied sauce of legumes like beans or meat to several other course meals that are served in preferably upper class homes and upmarket restaurants. Many of the tribes in Uganda have their own special dishes with many of them including various treats of vegetables, yams, bananas, Cassava, potatoes and various tropical fruits. Stews and sauces can cover chicken, pork, fish, legumes many of them fresh but there is also a variety of a dried course, all re-formed for stewing. More to the sauces, beef, mutton and goat are also commonly eaten in various areas around the country though they are less consumed in rural areas than other urban areas of the country. Commonly they are all termed as Nyama, a Swahili word locally meaning meat.
These are some of the 7 must try local dishes while in Uganda.
Matooke also locally called ebitookye in south western Uganda and Ibitoke in Rwanda is a fruit of starchy bananas and the commonly cooked type is the green one. Matooke or green cooked banana is peeled carefully, there after wrapped in Banana leaves and in the cooking pot, or  "Sufuria" in the local language with a pile banana stalks to  keep the heat with in the pan and it is steamed for a couple of hours. When it is ready  it turns soft and yellow, it therefore mashed while still wrapped and thereafter it is best served while still hot with tasty  stew of g-nuts, meat are fresh fish.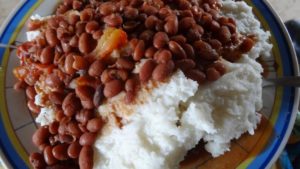 Posho / Ugali
Kawunga the local term for Posho and also commonly known as Ugali is mainly made from maize. Other regions in Uganda make Millet bread out millet grain and is locally termed as Kalo, which is a favorable dish in Western and southwestern regions of the country. In eastern Uganda some regions include cassava flour to make Kawunga and some take it as porridge.
Malewa
Malewa is basically smoked bamboo shoot which is always dried for its preservation. Many of these bamboo trees grow on the foot hills of Mountain Elgon in Eastern Uganda. Originally Malewa was fed on as food not until the recent years where people now prepare it sauce mixed with peanuts or SimSim (sesame seeds). This is a major meal in Bugisu region, therefore if you make a trip to Mbale, do ask for Malewa.
Luwombo
This is also another traditional dish locally prepared in the central region and mainly by Baganda people. This is either a stew of chicken, beef, peanuts, mushroom, or dried fish. The dish is served on many important occasions like wedding parties, restaurants and on special days.
Sim Sim (sesame seeds)
This is a proud staple food particularly in the Northern region of Uganda. The roasted SimSim paste is most times mixed into a stew of greens or beans and commonly served as a side dish. The paste may also be used to spread on bread for breakfast or snacks and more tasty candy.
Ground nuts
Ground nuts are a very special sauce commonly eaten in Uganda. The sauce is served with Matooke, Rice, potatoes, yams and some people eat the ground nuts row, others roast them. It is such a fine delicacy that you can have then as snacks for breakfast
Kikomando
This is an affordable meal on the almost every street in Uganda. kikomando is made of chapatti  pieces cut and served with fried beans. Originally the meal was enjoyed by casual workers who could not afford reasonable meal but today the dish has been formalized and served in upmarket restaurants as well.
Uganda Car rental services offers a team of well trained Ugandan tour guides who will be able to take to some of the best restaurants around town for a chance to taste some of the mentioned local dishes. For a food toyur around Uganda, simply send us an inquiry at info@ugandacarrentalservices.com or call directly at +256700135510, +256414699459