Camping trips are one of the most adventurous ways of getting very close to nature in an enjoyable and exciting mood or manner. Keeping up out door is not easy but to those that love nature, it sounds interesting. Camping trips in Uganda are such an adventurous way of discovering the best out of all National parks and tourist sites in the country, most of these destinations have well protected and reserved campsites free from animal raids. To have a successful budget camping trip, there are some of the main equipment to carry along or they should be on your must carry list and below are some listed for you.
Tent
Camping tents offer temporary shelter for you while on your trip, try to find out how many people are travelling and know the size of tents you will need. Camping tents range from one sleeper to as many as ten. Using a sleeping tent saves you  from hush weather like rains and too much sunshine, you just a mobile house compare to  constructing tree branches as shelter. Inquire from your rental company about the sleeping tents and their capacity.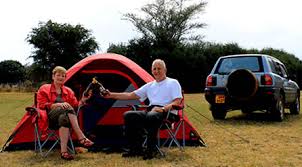 Bedding supplies
Much as you have a tent as a shelter, you will not sleep on a tough and rough surface, ask for a provision of a simple camping mattress and if possible carry your own sleeping bags for safety and a pillow to have a comfortable night sleep. Sleeping materials are very important; you would not want to wake up with a cold after a whole night without warm bedding or painful muscles after sleeping on tough and hard ground.
Utensils and cooking material
While packing for your camping trip, remember to carry cups, plates and cooking material like saucepan, others you may end up hungry or spending more than you expected on food in restaurants. A few materials can be of help, simple cups, and possibly a cooler box to keep your drinks colds. If you would like a barbeque set then inform your rental company in advance.
First Aid
Your health and safety comes first above all, therefore carrying a first aid is a wise decision. Remember you are going in the wild, you can encounter insect bites , bruises, snake bite, mosquitoes, cuts out  of chopping sticks and many more. Items in a first aid kit include, blades, gauze, cotton wool, and clean wipes.
Food and water supplies
Before you stage your camping site, make sure you have enough food stocked for the number of people camping and water supply. Many of the camping sites are in remote areas with no shops available to  buy any food , therefore make sure to  have enough to  eat until you find where you  can get more. Water supply at your campsite is also very important, either you  are close to  a river, lake, constructed water supply point.
To book a camping safari or camping gear in Uganda, you can send in an email at info@ugandacarrentalservices.com or call +256700135510, +256414699459