When planning to travel to Uganda, remember that there are several options of how you can get around your destinations; self drive, guided tour and use of public transport which include buses, motorbikes and minibuses among others. If you are looking forward to going on a luxury Uganda safari this season, you can highly spice up your trip by considering hiring a smart professional and experienced safari guide specializing in your interests. Are you a bird lover, primate lover, walking enthusiast, hiker or have much love for wildlife? We have a large number of knowledgeable safari guides that will make your luxury tour remarkable. Let us know of your interest and you will enjoy the benefits below;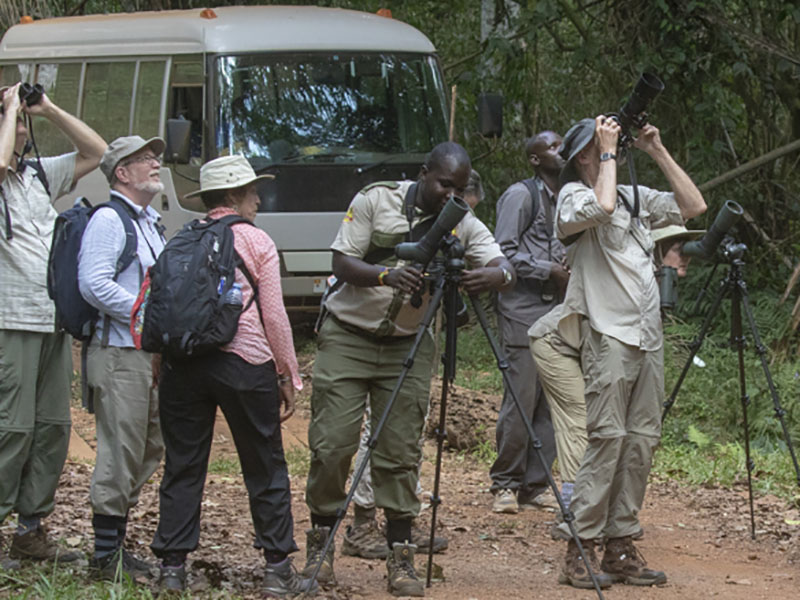 Ride in a smart and well equipped safari car with a highly experienced safari guide
A luxury guided Uganda safari means traveling in a very smart safari car to your destination, a car that perfectly suits your trip purpose. If you are a family or small group, you will travel in an extended safari van while couple can move in a Super custom, Hilux or Prado. Your safari guide is also well experienced and knows a lot about Uganda including culture, wildlife and current affairs among others.
You have enough time to spend on each safari activity
Most luxury tours are arranged with enough time allocated to each activity. No marathons, instead, the visitor should have enough time and fully do and enjoy their activity to the maximum except for activities that have specific schedules. For example, if you want more time with mountain gorillas and chimpanzees in Uganda, you are advised to go for gorilla habituation experience and chimpanzee habituation experience respectively.
You can get a "specific language" safari guide
Although most tourists prefer English speaking guides, and yes this is because most of visitors can use and understand the language, you can still have a safari guide of another international language on a special arrangement. This will help you understand better the stories about Uganda and the attractions you come across.
Your package includes high-end services
When we book your luxury tour, everything included is at a super high end level. Whether you are spending your nights within safari game parks, you will stay at luxury lodges that offer a variety of tasty foods, a cool environment and other options of services like massage, fitness center, concierge and others.
You have a chance to request for changes on some services
In luxury hotels, you can make changes on your hotel bookings through your tour operator. This is an advantage that budget travellers may not be given in most hotels and lodges. And your safari guide on a luxury tour will help you go through some of such procedures easily since these people are familiar with the hotel personnel.
In comparison to other African safari destinations, Uganda still boasts relatively lower priced luxury tours yet it has an untouched tourism destinations. In addition, it has some of the most interesting things to do including whitewater rafting, gorilla trekking and mountain climbing among others. Whether you are travelling for wildlife or business, deciding to go on a luxury guided safari is amazing and allows you delight in this African tour. Book for your trip today through info@ugandacarrentalservices.com or call the reservation team on +256-700135510 / +256 414-699459.
Gloria Kabugho