Toyota recently announced that it will be lowering the price for the new 2017 Rav4 model as soon as possible to compete better with other car companies manufacturing compact SUVs. Most of the Toyota Rav4 model prices have been reduced by US$ 500 to US$ 1330 apart from the platinum model and hybrid trims which wont get any discounts.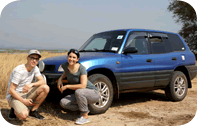 The 2017 Rav4 has some of the best safety features you will definitely need on any car, it's the only compact SUV to have a collision warning system that offer automatic emergency braking in-case the car detects a pedestrian or any other external object to avoid any accident. Other features include lane departure warning plus adaptive cruise control mechanism making it one of the best SUV cars in the world.
Below are new discounted prices per model. FWD ( Front Wheel Drive) , 4WD (4 Wheel Drive)
⦁ XLE: US$ 26,460 (FWD), US$ 27,860 (4WD), Discount- US$ 1330
⦁ LE: US$ 25,370 (FWD), US$ 26,770 (4WD), Discount – US$ 500
⦁ SE: US$ 29,750 (FWD), US$ $31,150 (4WD), Discount – US$ 1195
The price cuts on the 2017 Toyota Rav4 is a clear indication of the tight competition for the market in the compact SUV cars brands. We will keep you posted about the latest news and updates occurring in the Toyota world. Planning to hire a Rav4 in Uganda for a self drive trip or driver-guided road trip, we at Uganda Car Rental Services will be more than happy to get for you a 3-door or 5-door Rav4 at the best price. Just get in touch with us by sending us an email to info@ugandacarrentalservices.com or call us now on +256-700135510 to speak with the reservations team.