Kampala is not only Uganda's capital city but also the major business hub in the entire country, good infrastructure, communication & transport network coupled with overall general security stability has made the city a home for numerous privately & government owned businesses. That's not all, Kampala city is the best base for exploring Uganda offering tourists chance to sample local's way of life and also do some shopping before you drive off to the parks & other remote destinations.
Kampala city is blessed with a number of cultural & religious attractions with the majority belonging to Buganda Kingdom, the largest ethnic group in Uganda occupying central Uganda. Popular places to visit when you self drive Kampala city include the Kasubi tombs, Kabaka's palace, Martyrs Shrine, Ndere cultural center, Bahai temple, Gaddafi mosque, Namirembe cathedral, Rubaga cathedral, Shopping malls, night clubs to mention but a few.
There are a variety of public means you can use to get anywhere in Kampala city but as cheap as public transportation is, it's unreliable, unsafe and uncomfortable especially if it's your first time in the city. You will need to hire a private car if you want a safe and comfortable trip around Kampala. There are numerous cars for hire in Kampala city ideal for self drive but the 5 mentioned below make the cut as the best basing on price comparisons with features & capabilities.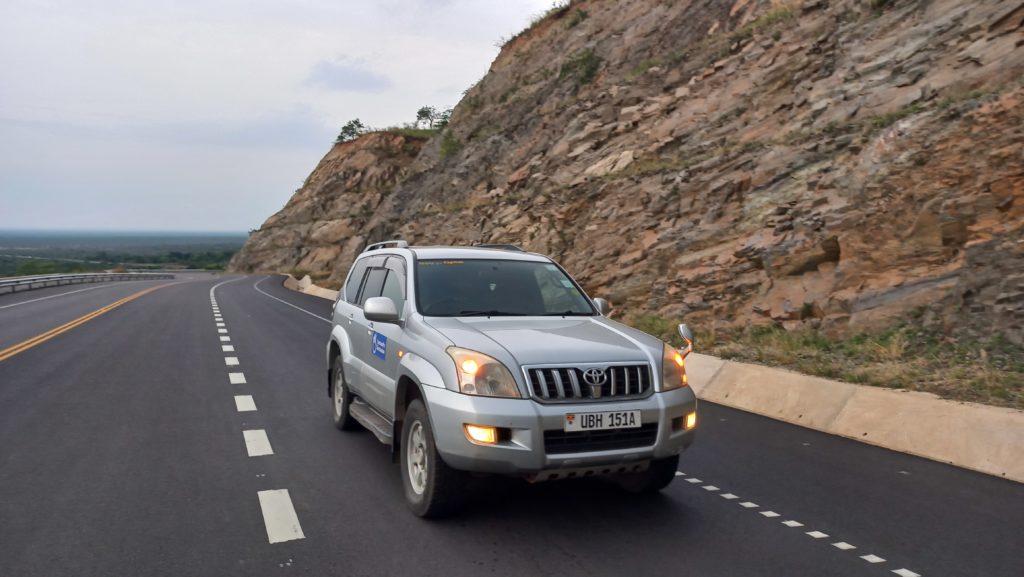 Check out the best 5 self drive cars for hire in Kampala city
Toyota Land Cruiser – 4×4 station wagon can seat up to 5 people comfortably with spacious space for cargo in the rear. Ideal for business road trips as well as safari tours. Price ranges from US$ 80 per day excluding fuel
Mitsubishi Pajero– The full size SUV can accommodate up to 5 people with adequate leg room & space for cargo. The Pajero is ideal for business and leisure road trips around the city. Price ranges from US$ 70 per day excluding fuel.
Toyota Rav4 – This small compact SUV is one of the most requested self drive cars for hire in Kampala city. The 4×4 Recreation Active Vehicle comes in two versions, the 3-door & 5-door version all equipped with a functioning AC, cozy seats & spacious cargo space in the rear. Price ranges from US$ 50 per day excluding fuel.
Drone Van – The HiAce drone van is ideal for VIP or executive travelers doing business in Kampala or planning to explore in a luxury car. It can seat between 10 to 13 passengers comfortably and is easy to drive perfect for small groups or families on vacation in Uganda. Price ranges from US$ 100 per day excluding fuel.
Toyota Premio – One of the cheapest cars for hire you should book when you decide to self drive Kampala is the Toyota made Premio; a small sized 3-box body configured saloon car that can seat up to 5 passengers comfortably with an AC and boot for cargo. Price ranges from US$ 40 per day excluding fuel.
So if you are searching for the ideal self drive car to hire in Kampala city, then you shouldn't overlook the above 5 rental cars given their features and affordable price tags. To rent a car in Uganda for driver-guided or self drive road trip, simply get in touch with us by sending an email to info@ugandacarrentalservices.com or call us now on +256-700135510 to speak with the reservations team.
Bryan Muhoozi