Chimpanzees are exciting primates that can be spotted in big numbers in the Pearl of Africa with in their natural environment. Before you make your final decision of visiting chimpanzees, it is important to know the best time to trek chimpanzees in Uganda. There are different places where you can delight in the best chimpanzee trekking experience here in Uganda.
Kibale forest national park is popularly known as the best chimpanzee trekking destination with over 1450 individuals recorded in here, the park hosts impressive numbers of primate individuals about 13 species. However other areas where you can delight in unforgettable chimpanzee memories include; Budongo forest in Murchison falls national park, Kalinzu forest, Kyambura gorge in Queen Elizabeth national park plus Ngamba Island that is home to rescued orphan chimpanzees.
Here in this article, we present to you the best time to go chimpanzee trekking in Kibale forest national park;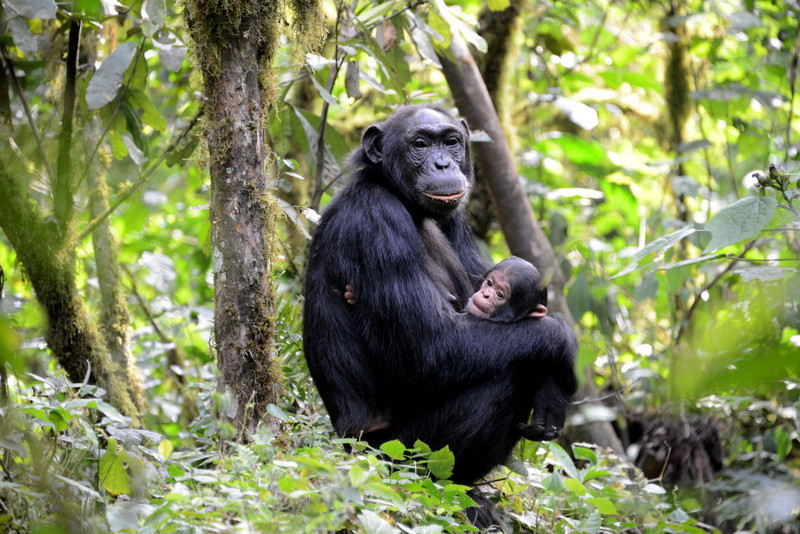 If you are a nature lover, we are glad to let you know that chimpanzee trekking together with gorilla trekking is one of the most popular star attraction on Uganda safaris that gives you great insight to once in a lifetime nature adventure.
Chimpanzee destinations in Uganda are open to all tourists throughout the year, therefore you can trek any time of the year. However, we recommend the dry season as the best time to go chimpanzee trekking in Uganda which is normally the months of December to February and June to September when there is less rain expected to interact the trekking experince, forest trails plus roads leading to Kibale forest are dry and easy to navigate through using a 4×4 safari vehicle.
The dry season is as well considered the peak/ high season in Uganda where many tourists are visiting the park, so we advise that you book your chimpanzee permit in time at least 4-6 months prior to the date of travel, due the fact that permits tend to be competitive and get sold out. The permits are only sold at the Uganda Wildlife Authority and with our team, we can assist you find the availability of the permit before you commence with the booking.
The rainy season can be perfect time to go chimpanzee trekking since there is plenty of food in the forest and you may not take long while trekking. The wet season is associated with muddy, wet and slippery roads, hence making the trekking a strenuous activity though fascinating in the end.
The chimpanzee trekking tour can be combined together with other safari activities to make the trip interesting. In-case you are planning to delight in a chimpanzee tour this season, hope the above information can be of help to guide you on when to schedule your trip. For further more inquiries, feel free to reach us on info@ugandasafaribookings.com or call us now on +256-700135510 to reserve your safari now