A hired driver is a person that will guarantee you get where you are going safely, comfortably and arrive in time. A person handed the responsibility of taking you from one destination to another always takes everything seriously hence you can always be assured of superb service worth every penny you pay.
However not every driver can guide you everywhere, the are various types of drivers for hire in Uganda each with a unique skill set accustomed to driving in particular regions or car types with varying charges per day and we at Uganda car rental services present to you the top 4 driver types you will find in Uganda.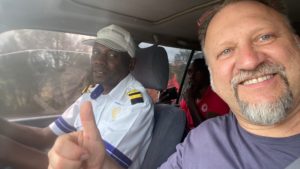 1-Tour guide – One of the most popular driver types in Uganda is a tour guide or simply called a driver-guide. This driver is well trained with good knowledge about the national parks and tourist attractions across the country. Most of the tour guides in Uganda have undergone trained at the Safari guides associations + driving schools and gained experience in the field able to tell you about the history, wildlife, nature and surroundings.
2- Chauffeur – A person hired to drive you around the city on leisure or business travel is the true definition of a chauffeur, well-groomed and always punctual ready for duty. Chauffeurs are mainly hired for business road trips, city tours & special occasions like weddings, VIP conferences.
3- Delivery driver – Also known as a cargo driver, this driver type is hired mainly to transport cargo from one destination to another usually traveling long distances for days. Top delivery drivers are accustomed to driving large commercial vehicles like trailers & trucks transporting both perishable and non-perishable goods securely.
4- Bus drivers – Other types of common drivers in Uganda include the bus drivers who operate minibuses and coaches mainly used for up-country road trips as well as group trips in the city as well as parks and remote destinations. Most of the bus drivers work for companies while others have privately owned buses doing the same job.
Searching for a driver in Uganda, the above types should give you a clue about who to hire for a particular service. We at Uganda Car Rental services hire out professional drivers at affordable rates, simply get in touch with us by sending an email to info@ugandacarrentalservices.com or call us now on +256-700135510 to speak to us.