A honeymoon is a fantastic way to forget about the ups and downs of the wedding and start the long-awaited for a beautiful life with your love. It is one way a couple celebrates a big achievement. However, it can be quite tricky to make a choice of where to spend this fun and romantic time because we want it memorable, and we are here to simplify this. Looking for the finest destinations for your honeymoon in Uganda this season? Uganda Car Rental Services brings you a number of places that will give any newlyweds a lifelong memory. Whether you prefer to spend it in the wilderness, around town or other hidden locations of Uganda. Enjoy the beauty of the Pearl of Africa as you experience a never-ending romance with your partnering the serene and tranquil destinations in the country.
Have a look through our selected top 6 places you can enjoy your honeymoon in Uganda in 2020.
Islands
A getaway to a land surrounded by water after the wedding excitement and success makes the newly-wed couple get the best feeling of having lots of beauty with no interruption around them. The tranquility, romantic weather, breathtaking views of surroundings and the lovely sunrises and sunsets are things that describe life on an island in Uganda. Located on the northwestern side of Lake Victoria, the Ssese islands are the most romantic islands in the Pearl of Africa that offer great moments for a honeymoon. They are an archipelago of 84 islands with some of them being perfect destinations for lovebirds. Here, you find awesome hotels that offer excellent services for the couple, for example Ssese islands Beach hotel, Kalangala Pearl Beach Resort, Brovad Sands lodge, Ssese Habitat Resort and Victoria Forest Resort among others.
City hotels
A couple that doesn't feel delighted with endless relaxation would probably enjoy a city honeymoon in Uganda. They stay at a stylish city hotel for the first few days of their marriage to enjoy the fancy facilities and get a luxury treat plus enough time for each other. Explore the surroundnings of the hotel, most of which have interesting sites like gardens, recreation centers with exciting games and body wellness centers. Sitting at your doorstep, watching the vibrant cityscape and the colorful bright lights all over town in the night, a city honeymoon is absolutely memorable.  
Most city hotels in Uganda that are ideal for honeymoon are situated in Kampala and Entebbe and a few in other cities outside these two. They include Kampala Serena Hotel, Pearl of Africa hotel, Sheraton hotel, Le Petit Village boutique hotel, Mestil Hotel, Protea and Speke Resort in Kampala and Number 5 Boutique hotel, Karibu Entebbe, Imperial Resort beach hotel, Best Western Premier Garden Hotel, Protea Hotel Entebbe and Malakai Eco lodge in Entebbe. Other perfect hotels for honeymoon are found in Jinja and Mbale.
National parks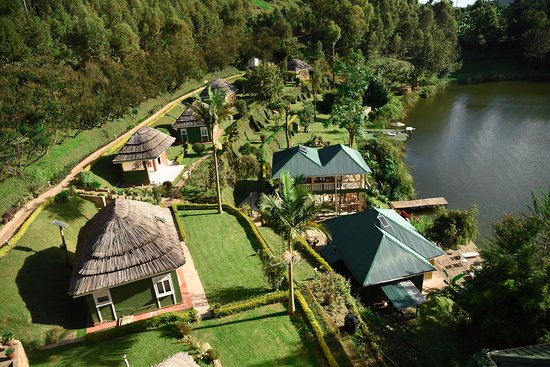 As couples are changing from spending their precious time of post-wedding in the congested cities, national parks come among the best alternatives for this great moment. Uganda has ten national parks with each of them having something unique to offer but some still remain better than others for honeymoon tours. When planning for a honeymoon in the park, we consider various things including the amenities that offer a romantic, comfortable and private experience. The best parks for honeymoon safaris in Uganda are Murchison falls national park, Queen Elizabeth national park and Lake Mburo national park where you enjoy game drives and boat cruises as well as Bwindi Impenetrable forest national park, Mgahinga national park and Kibale national park which are the finest primate trekking destinations. These parks have some of the best lodges for luxury break honeymoon for example Chobe safari lodge, Paraa safari lodge, Nile safari lodge, Mweya safari lodge, Mihingo lodge, Gorilla Heights lodge, Buhoma lodge, Clouds Mountain lodge and Kyaninga lodge.
Beaches
The beauty and serenity of a beach are reasons why a couple needs to spend their initial days of marriage there. Beaches offer a highly romantic experience for a honeymoon; unwinding on the sand, relaxing and watching over the waterbody and chilling alongside the waters while enjoying the fresh air and breeze from the surroundings. Top beaches for honeymoon in Uganda are Imperial beaches, Munyonyo beach, Serena Resort beach and Ssese island beach Kalangala.
Wilderness areas
Something incredible to plan for as part of the wedding is a flight from Entebbe to Lomej airstrip in Kidepo Valley national park to get lost in the wonderful African wilderness of the reserve. The park is located in the rugged Karamoja region in northwestern Uganda and is the only place to offer you true African wilderness. It is an adventurous stay where you go for game drives to encounter the wildlife in the park including lions, cheetah, elephants and more. Stay at Apoka safari lodge or Adere safari lodge and enjoy a sun-downer as you watch the sunset.
Beside waterbodies
There is nothing more memorable than waking up to the misty shores of some of the lakes and rivers of Uganda. With luxury resorts and hotels built just next to the water bodies, you have the best places for photography and chilling while enjoying the lovely views all around. The best places to stay for honeymoon close to a lake or river is Jinja near River Nile and at Lake Bunyonyi. Jinja's top lodges perfect for a honeymoon stay are Wildwaters lodge, Jinja Nile Resort, Kingfisher Resort, and The Nile Porch. Things to do at Jinja are boat cruise, horseback riding and quad biking among others.
Lake Bunyonyi is said to be among the most beautiful places for honeymoon in Africa and it has lodges including Arcadia cottages and Bunyonyi Overland resort that also arrange interesting activities such as canoe ride and zip lining.
With these categories and specific places for a honeymoon in Uganda that give the best of the romantic break, we hope you will be able to make a perfect selection for your trip. Get a customized honeymoon package from an expert travel consultant. Contact us today through info@ugandacarrentalservices.com  or +256-700135510 / +256 414-699459.