On 25th March, a group of 50 Rotary Club leaders headed from Kampala to Murchison falls national park in northwestern Uganda. This 3 day trip involved members of Adventure Vacation Safaris, the Uganda Tourism Board, the Private Sector Foundation and the Uganda Tourism Association with the purpose to promote domestic tourism in Uganda.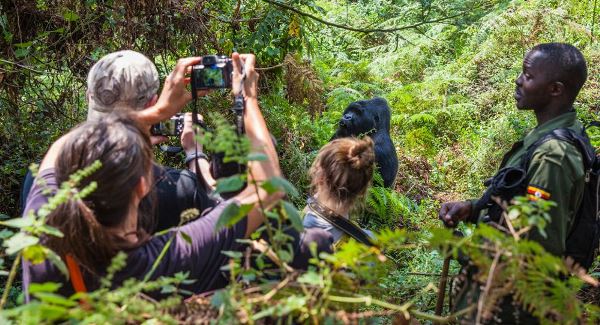 According to Uganda Tourism Board, the campaign is a unique way to roll-out the new destination brand – "Explore Uganda".
As the UTB Deputy CEO Bradford Ochieng flagged off the group at Pope Paul Memorial Hotel in Rubaga, he highlighted the need to rebuild domestic tourism using such initiatives. "Uganda is indeed a beautiful country and truly the Pearl of Africa. We are ranked 4th in the diversity of tribes," Bradford said. He added that tourism is poised to remain the country's biggest foreign exchange earner and UTB is looking forward to more partnerships with the private sector.
Francis Kisirinya, the Chief Membership Officer at the Private sector Foundation also revealed that they are working with UTB and other stakeholders to grow Uganda's tourism sector. He added that their combined effort has grown tourist numbers from 700,000 visitors to 1.5 million tourists which is still growing.
Dubbed "Fellowship on the Nile", the trip treated the travelers with game drives, a boat cruise on the Nile and a 30 minute mini party at the Nile Delta on the shores of Lake Albert.
With great expertise in organizing tours in Uganda, we look forward to helping you fulfill your travel dreams in Uganda. For inquiries about Uganda safaris, contact us at info@ugandacarrentalservices.com or call us on +256-700135510 to speak with the reservations team.
Report By Gloria N