Ononya emotoka eyokupangisa nga yamulembe? Oba nga elimu mbelanungi? Jyangu ku Uganda Car Rental services. Tuyina emotoka ezebiika bingi nyo, ela tukuwa emotoka kusinzila kukyoyagala. Tuyina emotoka ezabagole mubulimutendela, abagala ezebeyi ate nga zakitibwa nga limousine, Range Rover, Vintage oba emotoka  ezayitako emyaka, zebavuga nga mu 1900. Waliwo zetuyita jaguar, Chrysler , BMW, Convertible open roof, TX new model, ne old model, progress, primo new model and old, tuyina ne harrier, land cruiser v8. Zino munange emotooka nungi kumikolo egye mbaga, oba kwanjula. Abetagga emotoka ze mikolo mulimukifo kitufu. Tukwata video ne bifanani ku mikolo gyona, oba mazalibwa, mbagga, kwanjula, conference, okukwata video zenyimba, byona tubikola.
Tuyina ba dureeva abatendeke obulungi nga be bavuga emotoka eze mikolo. Mwatu balabika bulungi, ela bayina empisa ezomubantu. Bamanyi okukwata obudde, namakubo gona mu Kampala ne Uganda. Ba dureeva batendekebwa bulungi okutuka kumutindo gwenisyona. Nenyambala ebela esanyunsa mu uniform.
Katukwangulile emotoka zino mubulambulukufu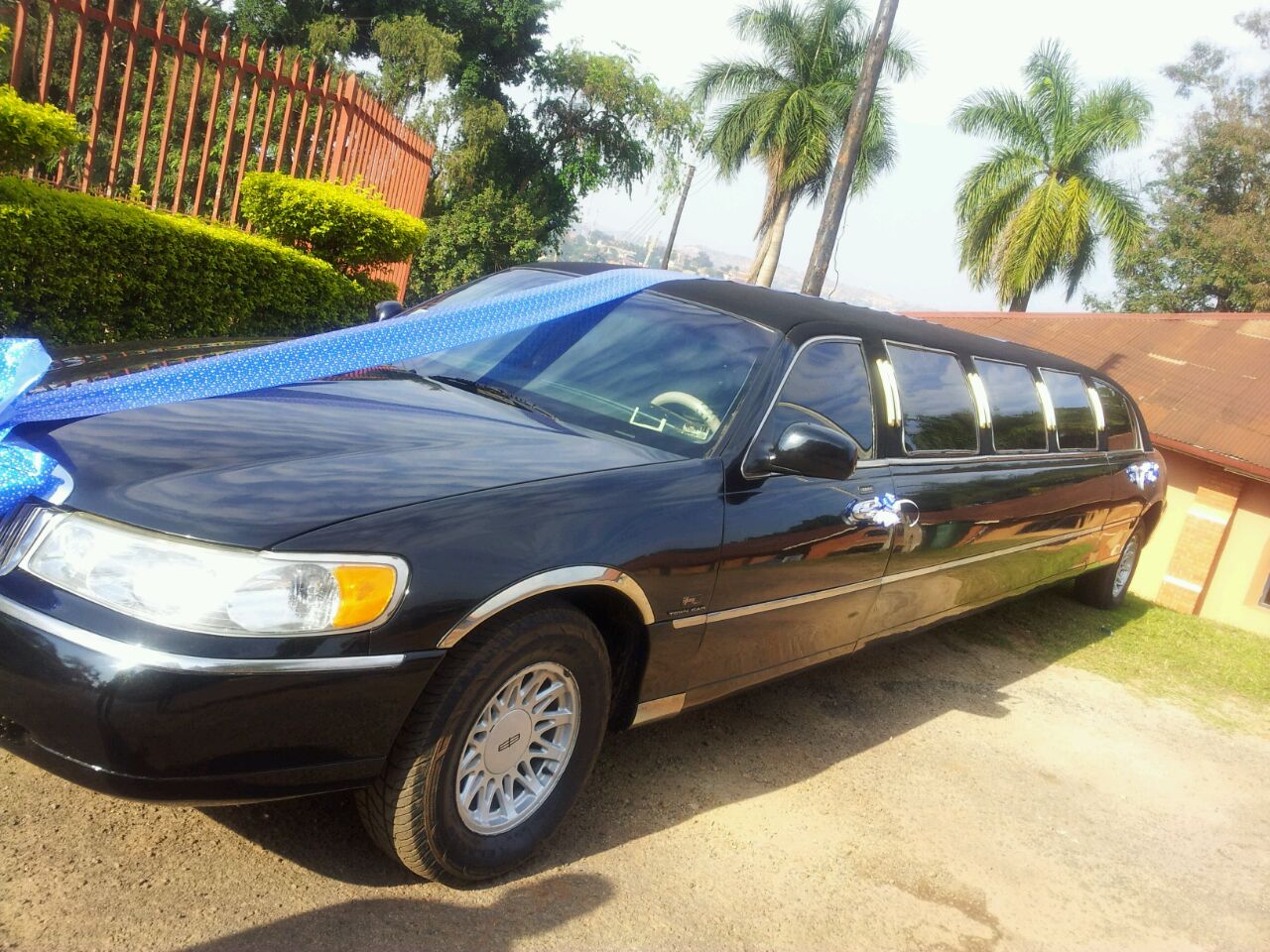 1# Limousine
Eno emotoka mpanvu ela etuza abantu munana . Bagiwunda bulungi nyo munda ela esikiliza. Bwogitulamu yina embela empewevu, emitogyayo mwatu gigondda nyo nti wewulila nga atudeku spongi. Osobola kuleeta ebyokunwa byo nga wine, juice, spirits, neweyagala anti gilassi mwezili. Twala ekitibwa ku mbagayo nga otambulila mu limousine.
2# Vintage Bitto
Zinono motoka zavugibwa mumyaka egyeda nga mu 1900. Belawangyawulo, kubala nga otambulila mu kamotoka kano. Abasinga bakayita kiele anti kafananamu nga ekikele. Kayina amtala amalungi, gwegamba ko kanjawulonyo. Mwatukanyumila ebifananyi.
3# Benz
Mercedez Benz, ewesa ekitiibwa nga bulijyo. Omugole abelawanjawulo nyo kubalala, ela emotoka ye eyina okwawukana nyo. Benz ye motoka ekyasinze okuwebwa ekitibwa ku mikolo, ela abanut bangi bazitegela olwo muwendo gwazo. Ziyina ebika bingi, nga E class, C class, S class, ela byona nga bya mulembe nyo. Nungyi munda ela ngayawundwa bulungi nyo.
4# Megane Convertible
Tambula nomulembe nga opangisa emotoka eno. Eno emotoka yegula wagulu, abangi egye bayita open roof. Osobola okwevugamu no mugole wo oba dureeva nabavuga. Tuyina Megan convertible mu langi zangyawulo ela osobola okwelondelawo gyoyagala.
Emotoka za ffe ezemikolo zili kumutindo mulungi. Osobola okugya wano ku office yaffe ku Stella Stage Najjankumbi oba notukubila esiimu ku 0700135510 oba 0414 699459 ne tukukolako bulungi nyo. sindika email ku info@ugandacarrentalservices.com . Abakozi bona balungi ate bakwata bulungi ba customer bona.