Camping is one of the most amazing out door activities in the world widely done by family and friends looking for that bonding adventure out in the woods. Spending the night out in a tent is an experience like no other, listening to the sounds of crickets as you chat and relate over a camp fire and then wake up to song of birds and a morning breeze is what makes camping such a special and exciting tourist activity.
However a camping safari will always require you to pack a lot of cargo including your own luggage plus camping equipment like the tents, kitchen utensils, cooking gas, blankets, mattresses, safari chairs & tables to mention but a few. You will need to hire a car that can fit your space requirements for both passengers and camping gear as well.
Uganda Car Rental Services takes great pride in organizing affordable camping in Uganda for different kinds of travelers offering you a suitable car ideal for camping road trip to any destination you would love to explore. We present to you some of the best rental cars to hire when you decide to embark on a Uganda camping safari this season.
Camper Van – Simply known as a camper, the van is by far the most popular vehicle for camping road trips , the mid-sized van is kind of a like a moving house equipped with an inbuilt cooking stove, fridge, beds and TV, radio and most importantly has adequate space for both cargo and passengers as well. The camper van might be the most expensive car to hire for camping but is by far the most comfortable and safest.
Safari Land cruiser – The 4×4 Safari land cruiser has been used for decades as an off-road vehicle that can handle any type of terrain making it popular among tourists wishing to explore the remote destinations like parks. The customized land cruiser features a pop-roof, freezer box + functioning AC and adequate leg room plus spacious space for passenger cargo & camping gear. The added advantage a safari land cruiser offers is that you can drive through the park with your heads out the roof which isn't the case with the camper van.
Camper Cruiser – Another good car to hire for camping in Uganda is the customer camper cruiser which comes with a roof-top tent you can easily mount in a few minutes. Since you already have a tent mounted, you only need to rent the other camping gear saving money you would have used to hire a tent. Spending the night on top of your car in tent offers added security for tourists afraid of wild attacks on the ground.
Rav 4 – If you are planning a budget camping trip or traveling as a couple and would love to get an affordable car that can fit both the passengers and luggage, then you should look no further than the Toyota Rav4 , a cross over SUV that can handle all types of terrain featuring spacious space for cargo in the rear. The Rav4 is regarded as the cheapest car to hire for self drive in Uganda given you can get this amazing 4×4 from as low as US$ 35 per day.
Safari van – The mid-sized van is another addition to our collection of car to hire for camping road trip in Uganda. Seating up to 8 passengers comfortably with spacious room for cargo in the rear and roof top makes the safari van a good vehicle to hire for family or group camping safari. The minivan also features a pop-up roof with functioning AC and well-spaced adjustable seats so the passengers can enjoy a comfortable trip.
Land cruiser Prado – Last but not least is the Land cruiser Prado , a very popular rental car in Uganda hired for park tours, business & leisure road trips but also for camping safaris in Uganda. It can accommodate up to 5 people comfortably hence it's fit for couples of group of not more than 5 friends. The adequate space in the trunk means you can load all your camping equipment there plus a little bit of cargo. Apart from the Rav4, the 4×4 land cruiser is way cheaper than the camper van, cruiser and Safari land cruiser.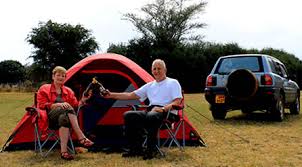 Are you planning to visit Uganda for camping safari and would love to hire a car + camping gear for the road trip? We at Uganda Car Rental Services will be more than happy to offer you our services. You can choose any of the above mentioned cars in the article as we will get it for you at affordable rates that suit your budget as well personal needs.
Get in touch with us to day by sending an email to info@ugandacarrentalservices.com or call us now on +256-700135510 to speak with the reservations personel.
Bryan Hulk