With no doubt, Uganda is truly the "Pearl of Africa" according to Winston Churchill as stated in his book – "My journey to Africa" the country is blessed with loving people, breathtaking attractions, the evergreen environment found in all corners of her motherland, stunning wildlife, a variety of colorful bird species, insects, reptiles, the magnificent mountain range including the Mountains of the moon, impressive large water bodies and many more other extremely interesting things you need to explore when you visit Uganda.
Uganda is a biodiverse country and it is important to note that the Pearl of Africa has graduated from the past years of strict leadership, apparently, it has adopted to the democratic governments that feature a lot of freedom thus it is one of the safe safari destinations one needs to explore when you take a tour in Africa. As we speak, the Ugandan Government has started great investments in infrastructure developments like hotels, roads, banks, plus many tourist facilities and amenities that favor the growth of the tourism industry at large.
Planning to tour Uganda this season and still having second thoughts, we present to you 8 reasons that will make you fall in love with Uganda.
1- Lots of adventure activities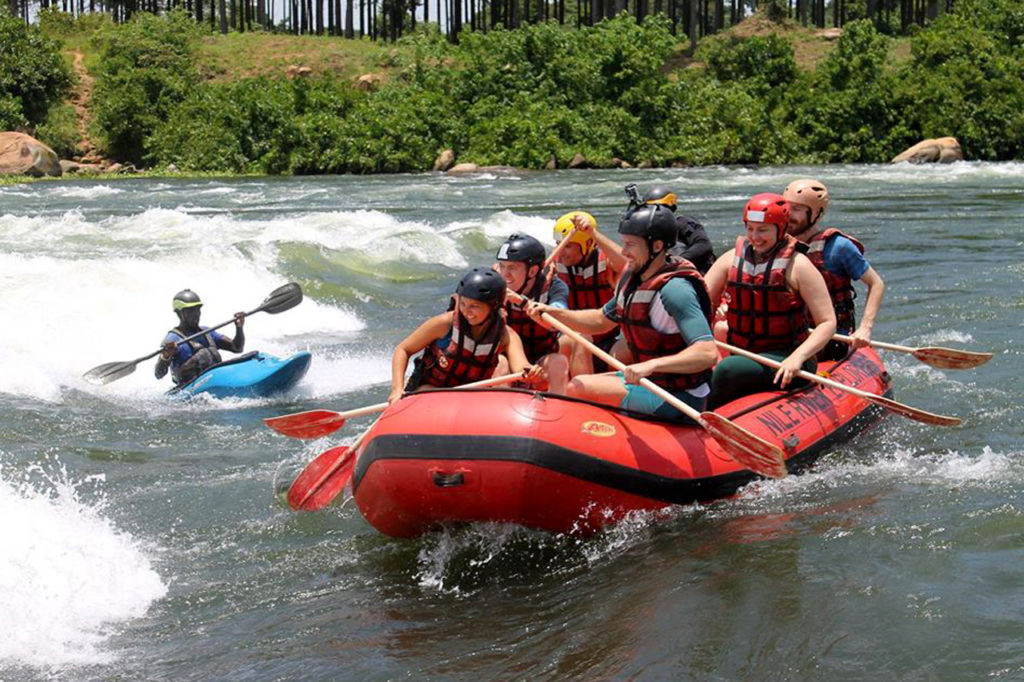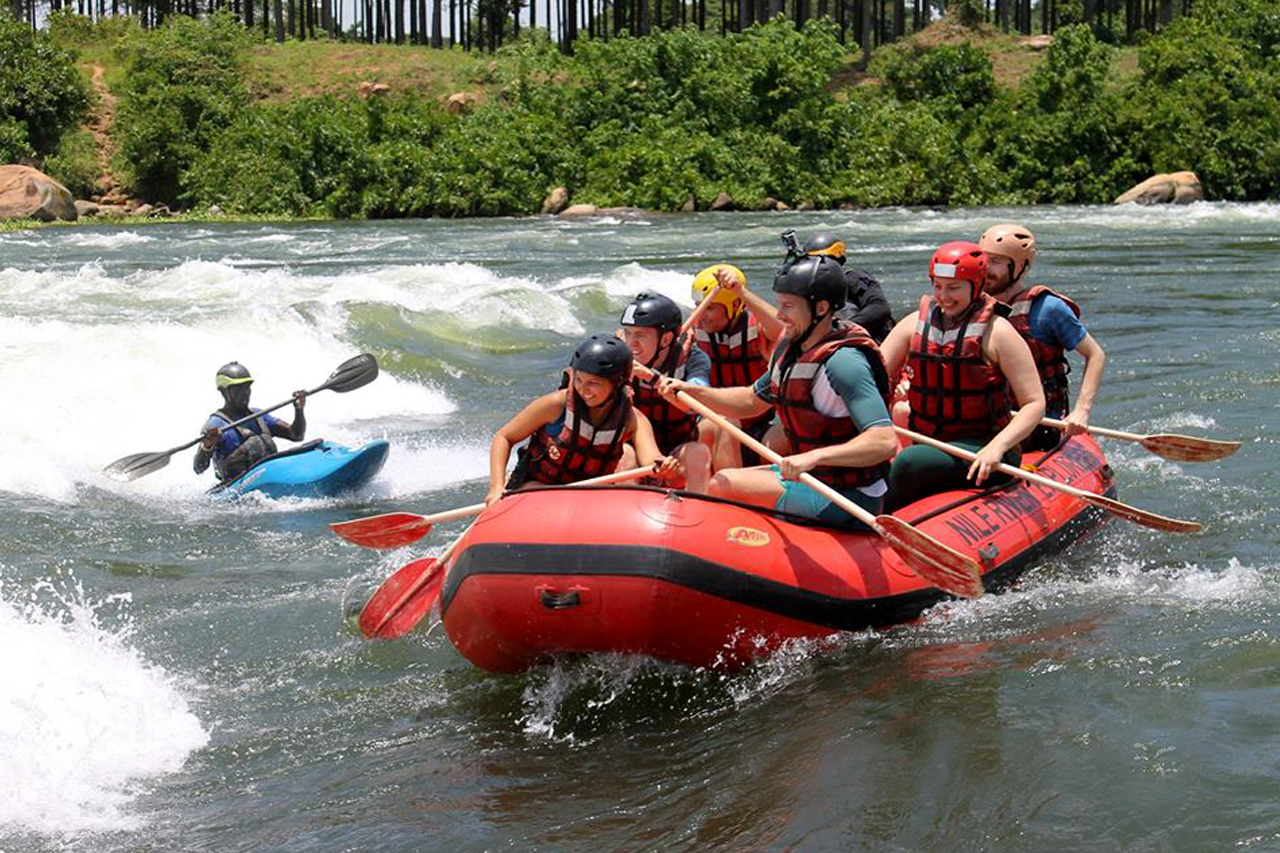 In case you are a nature lover and enjoy adventure, Uganda is blessed with a wide range of adventure sports activities worthy to experience while on your adventure road trip, they include; white water rafting that is done at the source of River Nile in Jinja, a rafting tour at the Nile can be tailored with other unique activities like bungee jumping, Nile tubing, kayaking, horse riding among others. Though horseback riding in Uganda is best done in Lake Mburo national park where you encounter lots of unique stunning wildlife that is difficult to sight elsewhere in other safari destinations. Other adventure activities include; mountaineering/ hiking mountain Rwenzori to experience the snowcapped peak Margarita, trekking Mt Elgon where you get chance to catch glimpse of one of the most beautiful waterfalls – Sipi falls plus many exciting attractions.
2- The Magnificent Murchison falls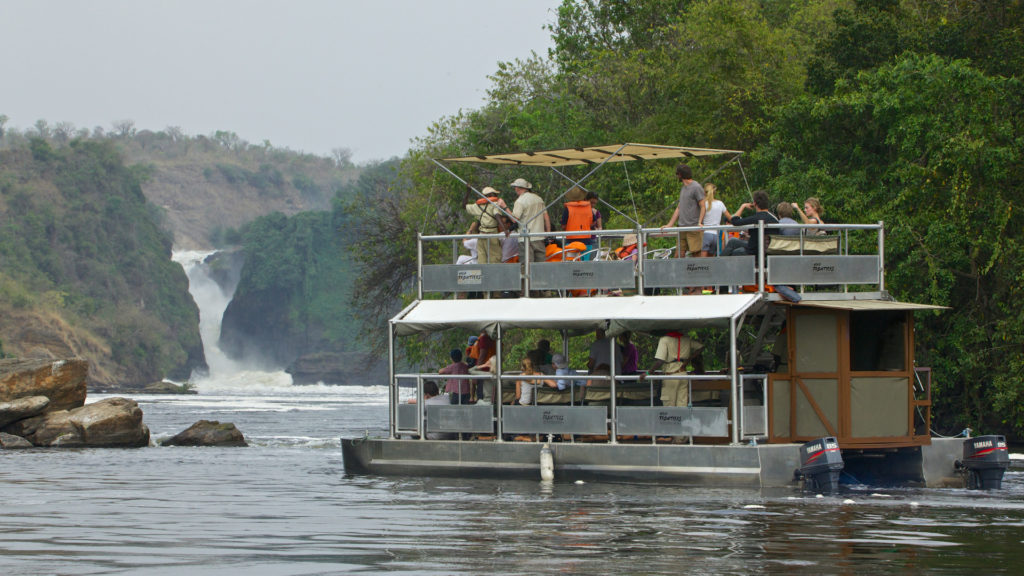 Murchison falls national park is popularly known as a prehistoric beast due to the fact that it is the oldest and largest safari park in Uganda featuring lost fascinating attractions that range from the eye catching landscape sceneries, stunning wildlife including the African Big Five, the magical Murchison falls that is formed as a result of the Nile river forcing its way through a narrow gorge about 5-6 meters and this has rocks that give the falls an excellent beauty, many colorful bird species with the notable shoebill stork as well as the thrilling primates species. Majority of Uganda tour packages always include a safari to Murchison falls and you can see why that's the case.
3-Breathtaking boat cruise on Kazinga Channel
Kazinga channel is a magical water body found in Queen Elizabeth national park famous home to the tree-climbing lions plus huge numbers of wildlife species. This park hosts a wide range of intriguing attractions found in the different sections such as Kasenyi plains, Ishasha sector and Mweya Peninsula where you encounter lots of interesting features. A Boat cruise on Kazinga channel is one of the main reasons you need to fall in love with Uganda, the cruise allows you to delight in long-lasting memories on Kazinga channel, while here grab a chance to see many colorful birds species, aquatic wildlife like hippos, Nile Crocodiles, enjoy viewing fishermen preparing their nets for a night catch plus eye-catching beauty sceneries.
4- Gorilla trekking in Bwindi Forest
Perhaps the most alluring reason to make you fall in love with Uganda is the fact that it's home to over half the population of mountain gorillas. Bwindi Impenetrable forest national park is a wonderful safari park that harbors almost half of the endangered Mountain gorilla species in the world, there are about 500 individuals and 19 habituated gorilla families in Bwindi impenetrable forest ready for gorilla safaris, the gorilla trekking experience in Bwindi forest can take half a day, the activity is quit strenuous but offering a fascinating adventure of a lifetime in the Pearl of Africa, it is one of the star attractions highlighted on Uganda Safaris that almost everyone would love to enjoy while in Uganda.
5- Chimpanzee tracking Kibale forest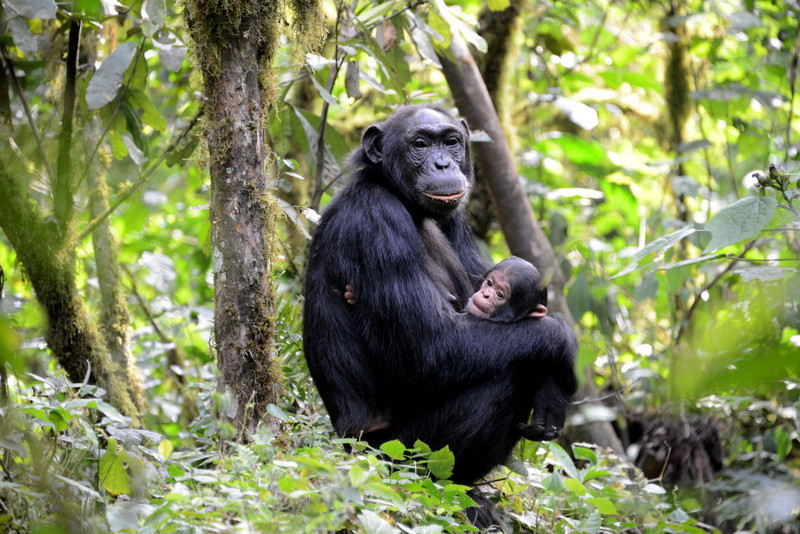 Kibale forest national park is great home to impressive numbers of primates about 13 species including the highest concentration of Chimpanzees about 600 that have been habituated and ready for chimpanzee trekking safaris plus the habituation experience where you spend a day with these beautiful creatures. Enjoy following a community of whooping and yelling chimps, the juvenile playing while jumping from one tree to another, males messaging one another plus mothers feeding their young ones. Upon locating these chimpanzee troops, learn more about their interesting behavior in the forest; feel free to take pictures and video of them that reminds you about your primate trip in Uganda. There are other places where you can enjoy chimpanzee trekking adventure but Kibale forest is known for offering the best experience in East Africa at large thus on this note this is one of the awesome safari destinations that will inspire you to fall in love with Uganda.
6- Freedom and the authentic cultures
Apparently, Uganda is a peaceful country; she has reformed from its past years of being under dictatorship and strict leaders to a wonderful democratic government featuring a lot of freedom compared to the previous years in the 1970's. Prior to this, there are enormous exciting tribes in Uganda blessed with different fascinating cultures that are exhibited through their traditional dances, songs, wears plus hand craft items and lifestyle. On your cultural trip enjoy meeting and greeting the Karamajong warriors, Buganda, Ankole tribes, the Batwa – shortest people in the world among other exciting tribes.
7- Astonishing Ugandan Cuisines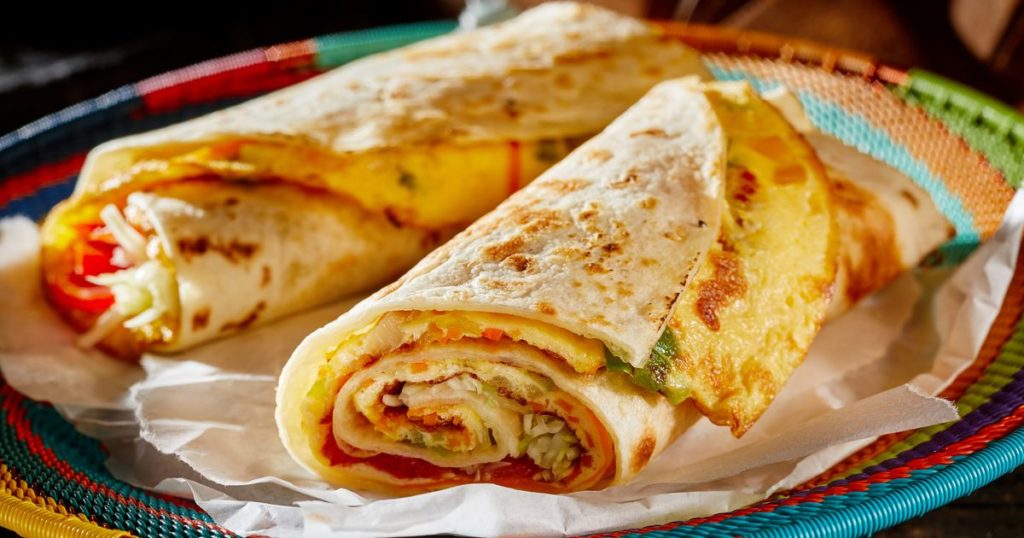 Uganda is home to a variety of delicious fast foods that is recognized globally including the "Ugandan Rolex" that has been launched as one of the top Uganda's best street foods, though very common on the streets, you can enjoy a Rolex in safari lodges and many hotels.  Others are grasshoppers (Nsenene)- a seasonal special taste delicacy for many Ugandans and one of the best amazing snacks, muchomo- roasted meat, chips (French fries), matooke, Chicken luwombo, Eshabwe among others. 
8- The incredible Nightlife
There are various places to have fun with in and outside the great cities of Uganda; when it comes to nightlife, Kampala city is extremely lively in both day and night hours, feel free to experience the elegant restaurants, bars and nightclubs that are dotted on almost every corner of the Kampala streets, casinos, live bands, local and international events among other entertainment centers that will inspire you to falls in love with the Pearl of Africa. Fogging music, drinking and dance is part of the nights here in Kampala, Ugandans are good at dancing over anything and they find it refreshing after a long day!
In case you are planning an awesome road trip adventure in Africa, think about taking a self drive or guided tour in Uganda where the unforgettable do happen, with the above facts, we hope you will delight in a rewarding safari that gives you long-lasting memories, for more information on how to book a tailor made tour to Uganda season, simply get in touch with our travel experts by sending us an email on at info@ugandacarrentalservices.com or call directly on +256700135510, +256414699459.